QRU? Oskar Kylvag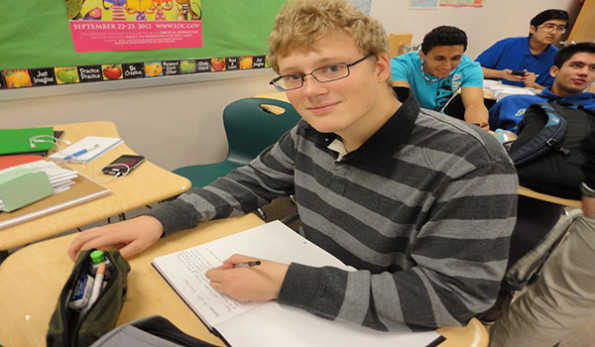 In the summer of 2011 senior Oskar Kylvag moved to America from Sweden to live with his father.
What part of Sweden are you from?
The most southern part of Sweden, a providence called Scania in a city called Helsingborg.
What was the toughest part about moving?
Readjusting to the way society works here was very hard. There is more public transportation in Sweden, so it's easier to get around there then it is here without a car. Of course I had to leave behind everyone I knew. It was pretty daunting to have to start fresh.
Who did you leave behind?
There was one of my best friends called Tony, a guy who comes from Bosnia, or at least one of his parents does. He is an amazing guy and I'm never going to stop being his friend and I hope he never stops being mine. Then of course there's family and the normal stuff.
Did you have to learn English when you moved here?
No, I've known English for most of my life. I moved with my dad to live a year in Malaysia during the school year 2000-2001. Because of that I needed to learn fluent English when I was seven years old.
Did you move around a lot when you were a child?
Not really in that sense, but I've been traveling a lot, visiting places. I've never really lived somewhere more than just Malaysia and America outside of Sweden.
How was Malaysia different then America and Sweden?
It's warm, hot. It's more or less straight on the equator so they don't have the seasons like we do. They only have Monsoon and not Monsoon which is basically really wet and not so wet.
Where was your favorite place to live?
Even though it was very nice to live in Malaysia, I didn't really like it because I did not know anything about the place and that ties into the fact that I was so young. I still have to say that Sweden is probably the best place to live when it comes to the fact that I'm able to go wherever I want without needing a car, although here in America it's very nice because everything is much cheaper and people are more open to people here then they are in Sweden. We're a very reserved society.