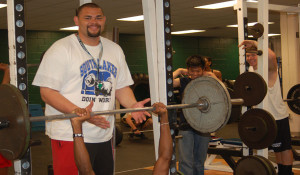 Alexa Amster, copy editor

June 2, 2011

Filed under Sports
Assistant coach Marvin Wooten was named head coach of the varsity Seahawk football team. Wooten graduated from South Lakes in 2002, and went to Howard University in Washington D.C.  He rejoined the South Lakes squad in 2006 as assistant coach to John Ellenberger, and, for last season, Andy Hill. Hill...
Kaitlin Welker, co-managing editor

June 1, 2011

Filed under Sports
The Blue team beat the Green team in a 22-5 victory during the yearly faculty kickball game on Thursday, May 26. In a five inning game announced by leadership teacher Mike Astudillo, IB-MYP coordinator Chris Powell earned the title of most valuable player for the scoring the most runs of the game. ...