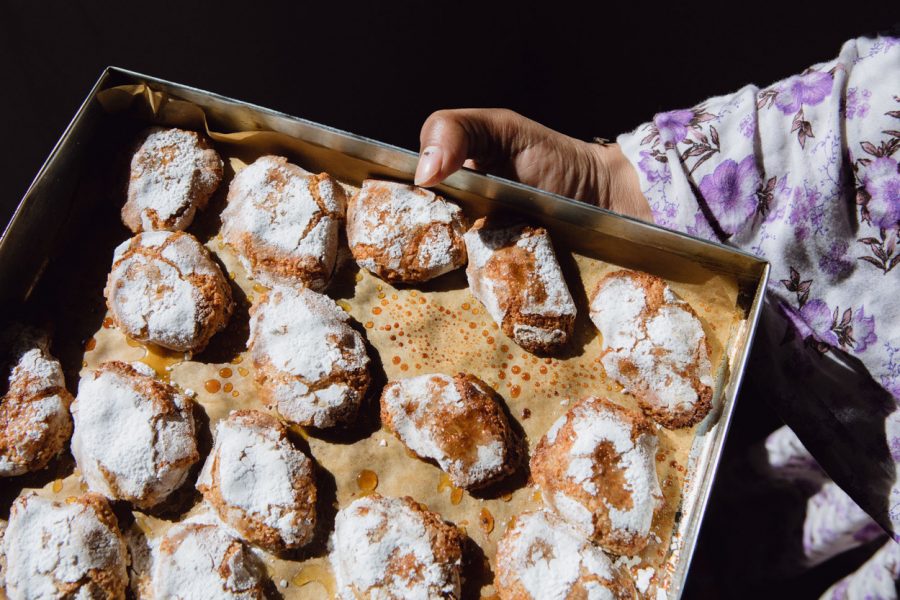 Matteo de Mayda / Contrasto
The Sahrawi people, better known as the settlers of the western part of the Sahara desert and Southern Morocco. Many refugees fled their home after the violence of the Western Sahara war, ending up in the base areas owned by the Polisario Front, a Sahrawi military organization. Refugee camps are now all over the Algerian desert, holding up to 165,000 people.
Deep in humanitarian trouble, the Sahrawi people now represent the so-called "forgotten crises," coming onto their 45th year of being stuck in refugee groups without a permanent settlement. The conflict of the war has not yet settled and they're in dire need of international aid.
In the midst of this waiting, the women of the Sahrawi Trade Union reached out to the Italian non-governmental organizations Africa '70 and Nexus, and according to journalist Matteo Mayada, talked about arranging a baking workshop in their settlements. They reached out to Maddalena Borsato, Italian pastry chef and researcher at the University of Gastronomic Sciences, who ran a workshop for around 30 local women. She instructed them through the process of baking cookies, and the women of Sahrawi found themselves able to provide for their households and make money.
Some of the workshops were hosted by women in different settlements, passing the knowledge on to others so they could supply their family as well. Project manager for Africa '70, Sara Di Lello, mentioned how the workshops strengthened "the sense of community and solidarity typical of the Sahwaris." Given the lack of ingredients at the camps, chef Borsato focused her lessons around the natural ingredients that could be found there like hibiscus and roselle flowers, which made for very vibrant desserts.
According to Isabel Coelle, the EU regional information officer for north, west and central Africa, Mahfud Mohamed, one of the young men who received a grant given by the EU humanitarian aimed at helping young Sahrawis, set up a business to improve their livelihoods. "I knew how to bake, but I did not have the money to start up a bakery," he said. The grant came with enough money to rent his own space and build an oven for bread, and a three-day training session of how to run a business.
The same Italian organizations also recently provided refrigerators for the women who plan to host workshops for high-level baking so they can learn to make wedding cakes (Matteo Mayda). For the Sahrawi, it's more than just learning to bake, discovering new recipes and eating. The real value lies in the events the pastries are made for, such as feasts, parties, and other commemorations. They are one of the main things that keep this community together despite being scattered about the Sahara in camps and bruised from war.
Thankfully, through the "Food and Work" project, the Sahwaris' spirits couldn't be higher.