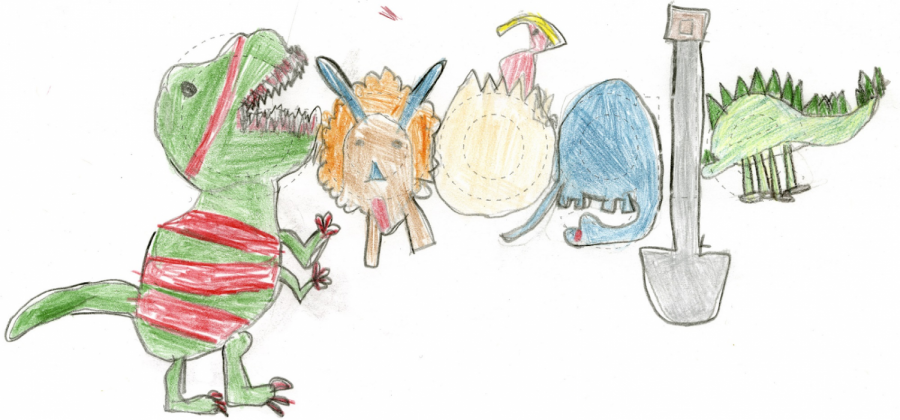 Sarah Gomez-Lane, a first grader from Falls Church, Virginia, is this year's winner of the annual Doodle For Google contest. Her dinosaur drawing was featured on Google January 8th. This year's theme for the students was "What inspires me…"
"The things on my doodle are my favorite dinosaurs. Dinosaurs inspire me to study more to be a paleontologist," Gomez-Lane told Google. "The shovel is for my future job!"
Google doodles began in 1998, when Google founders Larry Page and Sergey Brin started playing with their corporate logo to show that they were away at Burning Man in the Nevada Desert. After years of displayed artists' work, Google created Doodle for Google in 2008 as a way to showcase student art. The contest also takes place in other countries.
This year is the first time Google's doodle team will collaborate with the artist over the summer to animate her doodle, bringing the dinosaurs to life before it goes live later this year.
The contest was voted on by millions. Then, a panel of celebrity judges – including actor Neil Patrick Harris, former Mets player Carlos Beltran, and U.S Olympic gold medalist Laurie Hernandez – helped select the five finalists, one from each age group (varying from kindergarten to 12th grade). The finalists sent in drawings of space travel, fashion, design, and geography.
Gomez-Lane received $30,000 toward a college scholarship and $50,000 for her elementary school, Pine Spring Elementary, to spend on technology. The other four finalists all won a trip to the Google headquarters in Mountain View, California, as well as a Google Pixelbook computer and $5,000 toward college.