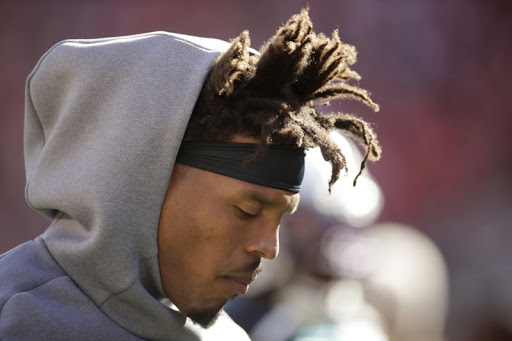 Cam Newton was placed on the season-ending injured reserve due to a Lisfranc fracture in his left foot earlier this season. A Lisfranc fracture is an injury in the foot in which one or more metatarsal bones are displaced from the tarsus. Considering the question is still in the air, "Will Cam Newton continue his career with the Carolina Panthers?" The Panthers drafted him in 2011 as the first overall pick, in 2015 he was named NFL MVP, and he redefined the league record book for scrambling quarterbacks. But even with all the amazing things he has done with the Panthers, there are reasons he likely won't return to play for them.
Newton has a single year left on his 5 year, $103.8 million deal. He is only 30 years old but considering that he's been hit far more than any other quarterback in the league since 2011. He's not the dual-threat quarterback he used to be, which can be an issue for the Panthers financially. According to ESPN, the Panthers would save $19.1 million if they were to cut or trade their star player. Leaving only $2 million in dead money and allowing the Panthers to add to their salary cap for this season.
Also Newton's current salary is a team-friendly deal for a "top-tier quarterback." However Cam has missed 8 consecutive starts which is not a "top quarterback" thing to do. Production wise, this is also an issue for the Panthers financially because they are paying top tier money for a non-top tier player. According to ESPN, when he was named NFL MVP in the 2015 season his QBR was 61.4 and was ranked 11th in the league. QBR stands for "Quarterback Rating" which calculates and ranks each quarterback in the league. It is calculated using each quarterback's passing attempts, completions, yards, touchdowns and interceptions. Recently after week 10 according to ESPN statistics and information Newton's QBR is currently 33.2 which would rank him 32nd but since he is injured he is not on the ranked list currently due to not qualifying for league statistic rankings.
Unfortunately, injury sacked Cam Newton before "Father Time" did and the best option for the Carolina Panthers might be the hardest. The Panthers were all in for Cam when they drafted him in 2011. They built an offense for his dual-threat capability and teams couldn't prepare for him because he was spontaneous and creative on the field. His best weapon was his legs, which invoked fear into defensive coordinators and defenders who had to make an attempt to prepare for him. Cam Newton is arguably one of the best quarterbacks that the league has ever seen, but an unpredictable ending to his story could overshadow what he has done.