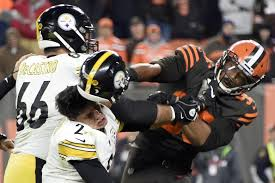 During the week 11 matchup between the Pittsburgh Steelers and the Cleveland Browns, there was 8 seconds left in the game when chaos broke loose. Steelers QB Mason Rudolph took the snap, for what would have been the last one, and throw to his left for a screen pass. Defensive End Myles Garrett hit Rudolph hard for an end-of-the-game play. The two went on to fight with the Steelers' offensive linemen in the middle. Garrett, with Rudolph on the ground, ripped off Rudolph's helmet and hit him on the head with it. These actions taken by Garrett triggered a brawl that ended a 21-7 victory for the Browns. This play was something that no one in the NFL community expected and shock filled the stadium and the audience watching.
Garrett went on to say "I lost my cool and what I did was selfish and unacceptable. I know that we are all responsible for our actions and I can only prove my true character through my actions moving forward. I want to apologize to Mason Rudolph, my teammates, our entire organization, our fans and to the NFL. I know I have to be accountable for what happened, learn from the mistake I made and I fully intend to do so."
The NFL quickly went on to suspend Garrett indefinitely for the rest of the 2019-2020 season. Many NFL analysts suggest that this suspension will carry on to the next season. Steelers Offensive Lineman, Maurkice Pouncey was suspended three games for punching Garrett after he hit Rudolph with the helmet. Both teams were fined $250,000 for the incident and Browns Defensive Lineman Larry Ogunjobi has been suspended for one game for his role in the confrontation.
This upcoming week, the suspended players will have the opportunity to appeal and this action is anticipated by most.