MLB 2020 Postseason: Covid-19 Edition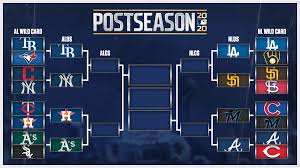 With the altered 2020 Major League Baseball schedule due to Covid, the regular season was only 60 games as opposed to the usual 162. With this major change in the regular season, the commissioner of Major League Baseball, Rob Manfred, has allowed 16 teams (8 from each league) to enter the postseason, and with only 30 teams in the entire league, this means that more than half of the teams in the entire league will make the postseason this year.
The top two teams from each division will qualify for the postseason this year, and with 6 divisions in total that only equals 12. Along with the teams that already qualified for the postseason, the 7th and 8th ranked teams in their respective league (American and National) will also have an opportunity for a postseason run this year. With the unprecedented 16 teams in the postseason, the MLB will be having its first ever "Wild Card Series", or the first round, and it will contain 8 different games of which all teams will be in a 3 games series to determine who will play in the ALDS or NLDS. The Wild Card was introduced in 1995, a year after the MLB players ended a 1994 season on strike against the owners. This strike and ban of baseball for almost a year brought the rising sport to a steady halt in the eyes of sports fans, and the MLB needed a way to bring the fans back to watch baseball. Their idea was to introduce a Wild Card, an extra game that is often referred to as "regular season game number 163", as it is a one game win or go home scenario for the two teams in each league who are trying to sneak their way into the postseason. While the Wild Card game has been happening for decades, Major League Baseball has never seen a best of three Wild Card series for all sixteen teams, which makes this slightly disappointing 2020 MLB season a little more interesting.
Although this style of postseason has never happened before, and was only adjusted in this way to accommodate the struggles teams faced during this covid season, some baseball fans wonder if the commissioner, Rob Manfred, will have this style of postseason for the future seasons. There are very mixed opinions on this idea, but the majority of fans and experts are opposed to the idea of Manfred attempting to double the amount of teams in the postseason just to make a little more cash. Baseball has never been about the money, it's America's pastime and this postseason is the most unique one we have ever seen.