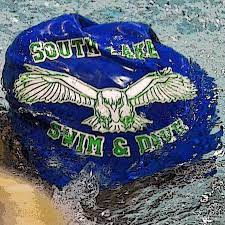 While Coach Kevin Mallon has experience with many different teams, his focus this year will be coaching for South Lakes High School's swim and dive team. He will become the head coach after the retirement of Coach Groves.
Coach Mallon has coached multiple swim teams with all sorts of skill levels and goals. He continues to coach the Pinecrest Piranhas, a swim team that is a part of the Northern Virginia Swimming League (NVSL). Additionally, he was a former coach for the Potomac Marlins of Potomac Valley Swimming (PVS), and USA Swimming. In 2015, he founded a youth triathlon program and still contributes to it. This is not his first year on South Lakes' coaching staff, but it will be his first year as head coach. All of his previous coaching experience will hopefully result in an amazing high school swim season.
Even in this in-person environment, this season won't be as normal as everyone had originally hoped. COVID-19 protocols give the SL coaches little say in the matter. It'll be up to the county to decide what's best for the athletes this winter. A precaution already put into place is the vaccination mandate for athletes. "Personally, I think it's a step in the right direction," Head Coach Mallon stated, "we need it for everyone to feel safer."
South Lakes generally takes 70 swimmers (35 girls and 35 boys) on the team. In addition to the vaccine, all athletes must have a physical turned in before tryouts on November 8th at the Reston Community Center. The form can be accessed online on the SL athletics website.
While most high school athletes are preparing for college sports, high school swimming sees things differently: "Swimming is a unique sport in the sense that high school [swimming] is not a lot of the kids' focus," Head Coach Mallon explained, "it's not where you're getting recruited from, so it's really trying to enforce team spirit and team camaraderie." Colleges look at club teams instead for recruitment. Therefore, South Lakes puts a lot of focus on team building to create a welcoming and safe environment for all athletes.
With all the changes this year, the team's mission of creating " a good team culture" and "having fun" is still the same.