Getting to Know Your Teachers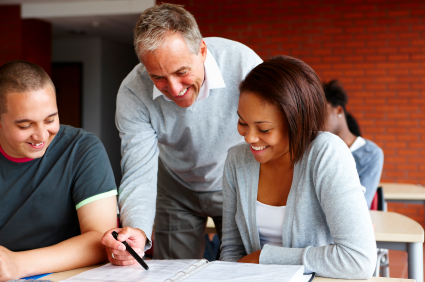 Hang on for a minute...we're trying to find some more stories you might like.
It may seem unnecessary and kind of strange, but getting to know your teachers better is a great school survival tip. Maybe not all of them, but at least having one teacher you don't mind getting to know better is a good idea.
From personal experience, it is good to have that one teacher you can talk to about school or life in general because school can be stressful and having a teacher to talk to is great stress reliever. Having a strong student-teacher connection also shows the teacher that you are engaged in class and know your full potential. If you are having one of those bad days, they will probably be more lenient towards you compared to a student who does not have that student-teacher connection. The teachers you have a connection with are also the teachers you shouldn't be afraid to ask questions to. If you are not understanding a concept, don't be afraid to ask them for help. I actually struggled with this with a couple of teachers in the past. I was afraid to ask questions because I wasn't sure how they would respond, but I also had teachers that I wasn't afraid to get help from because I knew who they were and that they are going to help me grasp onto the concept. Those are the classes I really excelled in.
From a more scientific view, a student-teacher bond impacts the education of a student a teacher's willingness to teach. When a student doesn't feel safe, respected, or truly known by their teacher, they are most probably not going to be very invested in their education. Likewise, when a teacher feels distanced from a student, it's most probably hard for them to walk into a classroom each day, trying to motivate students who are not invested. I'm not a teacher, but I am sure that teacher want to get to know their students more personally to make the class interesting.
Although I hate saying it (but important nonetheless), for those applying to colleges and need college recommendation letters from teachers, it would be a good idea to get a recommendation letter from a teacher that knows you well, and for a teacher to know you well,you need to have a strong student-teacher bond. A teacher you don't know well will obviously not be willing to write a recommendation letter for you or will write a poor one.
After reading this article, here are some steps you should take towards having a student-teacher bond:
To find a teacher you want to get to know better…

Think of a class you are having a hard time in or…

Think of a teacher you have class with and you don't mind talking to

Go to that teacher after school to either help them with anything they need or for after school help with anything you are struggling with

Go to their class after school a couple of times a week to show that you are interested in getting help from them or helping them

Make sure you are paying attention in their class and that you are making an effort to learn and get a good grade

If you are having any personal problems, talk to the teacher you feel most comfortable with
If you follow these steps, you will be able to form a student-teacher connection, and trust me, having a teacher you can talk to will be beneficial in the future. So make the effort now to get to know one of your teacher.