Martin Luther King Jr.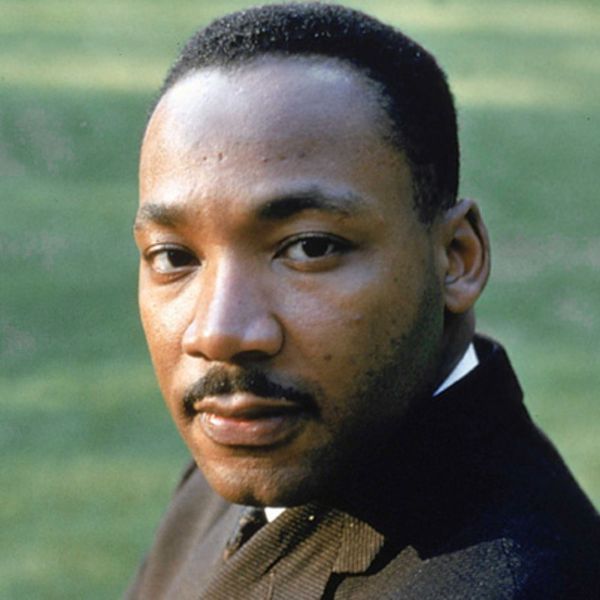 Hang on for a minute...we're trying to find some more stories you might like.
Michael Luther King Jr., better known as Martin Luther King Jr., was born in Georgia in 1929 to Michael King Sr. and Alberta Williams King. He was their second child with an older sister, Willie Christine, and his younger brother, Alfred Daniel Williams King. Martin spent his youth helping his father, a minister for Ebenezer Baptist Church who also changed his name to Martin Luther King Sr in honor of the founder of the Protestant churches. After Martin's grandmother died from a heart attack, he was devastated and attempted to commit suicide by jumping out of a second story window.
Martin spent his high school years at Booker T. Washington high school, where he skipped ninth and eleventh grade. Once he graduated, he was accepted into Morehouse College in Atlanta in 1944. In college, he found he had lost his faith in Christianity and found public display of religion as inappropriate. Upset at his father's disappointment when Martin declined becoming a minister, he took a Bible class during his sophomore year and rediscovered his faith.
He graduated from college in 1948 as a valedictorian with a sociology degree, then attended the Liberal Crozer Theology Seminar in 1951. Martin enrolled at Boston University, and while studying for his doctorate, he met Coretta Scott, an aspiring singer. They married and in 1953, moved to Alabama in 1953. There they had four kids: Martin Luther King III, Dexter, Yolanda and Bernice Scott. In 1954, he became pastor of Dexter Avenue Baptist Church. In 1955, he completed his Ph.D at 25 years old.
In 1955, the local NAACP leader met with Martin to recruit his help with the Rosa Parks bus scandal. Martin gave a speech to the group, telling them that protest was the best first step to take. His speech prompted the start of a bus boycott which lasted for a year before the NAACP took legal action, claiming segregation was unconstitutional. They won which caused the city of Montgomery to lift their segregated transportation laws. The word of their success inspired a nationwide organization which lead to the Southern Christian Leadership Conference.
After leading multiply successful boycotts, Martin gained national notoriety. In 1963, he lead a protest and gave his famous "I Have A Dream" Speech. The large scale of Martin's protest caused a violent response in police. This got Martin in trouble with both white and black clergymen for endangering children and the elderly during his protest. King's "I Have A Dream" speech spread and earned him a Nobel Peace prize in 1964.
From 1964 to 1968, Martin lead more protests and criticism increased from other leaders who claimed his peaceful boycotts and marches were too little too late. During a labor strike in Memphis on April 3rd, 1968, he gave his final speech, saying: "I've been to the mountaintop I've seen the promised land I may not get there with you but I know that tonight we as a people will get to the promised land." The next day as he was standing on his room's balcony at the Lorraine motel, he was shot by James Earl Ray. Ray was then apprehended two months later where he pleaded guilty and was sentenced 99 years in prison. He died in prison April 23, 1998.
Although it has been quite a while since he was alive, Martin Luther King Jr. made an incredible impact on the world. It is important to take a second to remember the brave man he was and appreciate what he did to influence the still improving but more forgiving world of today.

About the Writer
Kevon Ballard, staff writer
Kevon Ballard is a sophomore staff writer on the south lakes sentinel. He enjoys reading and his favorite food is meatloaf. His biggest aspiration is to...