Art Spotlight: Gabrielle Baughman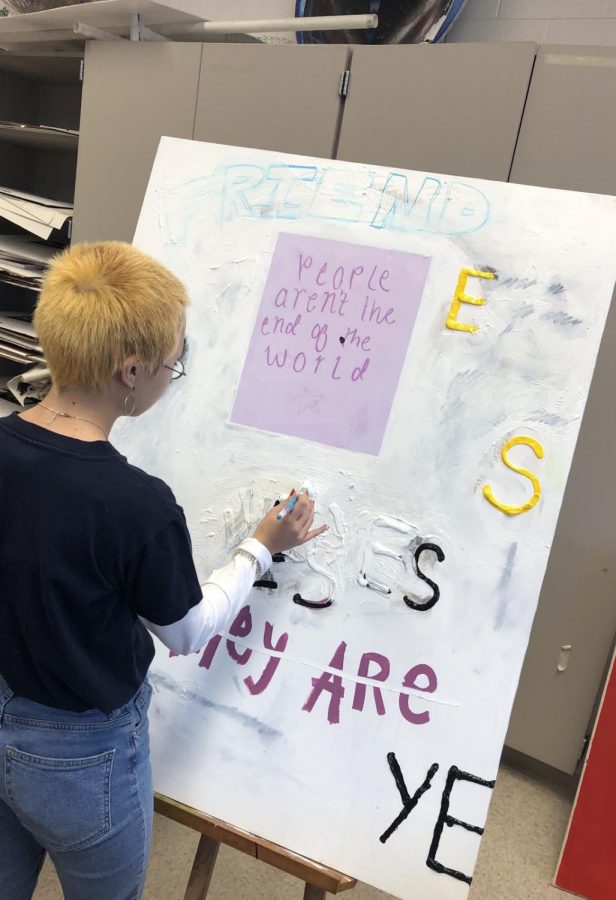 Senior Gabrielle Baughman has had interest in art ever since kindergarten. It was just one those things she naturally did for fun. Her love for art thrived throughout high school here at South Lakes, and she has lots to show for it. Art has done many things for her over the years. It is a safe space where she can be "the most honest." The project she is currently working on is one of her all-time favorites. It is a piece using the phrase "people aren't the end of the world." She likes to incorporate poetry and words into her work. When describing what she's learned over the years she explains, "I've learned how to turn purely a physical interest of art into conceptual art."
Baughman has developed her artistic skill through years of practice, and she encourages others to be persistent when trying to evolve as an artist. It may sound easy, but she also advises others "to just do it, and get started." Sometimes, you may not know where a piece is going, or what you want to do with it, but you have to start somewhere.
Baughman plans to pursue her passion for art in college to continue her self expression.
About the Contributor
Sophia Landeryou, student life editor
Sophia Landeryou is a student life editor and returning journalism member. In her spare time she likes to swim. She loves anything sweet, especially chocolate....