Movie Review: 'Dumbo'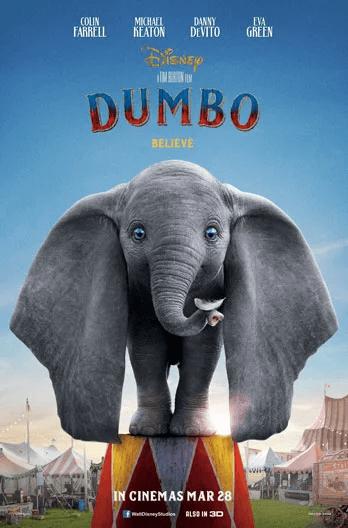 Hang on for a minute...we're trying to find some more stories you might like.
Dumbo is a favorite childhood character. His cute floppy ears, his adorable sparkling blue eyes, innocence, and charisma that seems to make everyone smile. Tim Burton made one of our dreams come true by creating a live-action 'Dumbo' movie.
In the new version of 'Dumbo,' there are a few new characters and plotlines. During the introduction of the movie, we're introduced to the Medici Brothers Circus which is run by Max Medici, played by Danny Devito.
After the circus unloads their belongings and sets up their tents, Millie (Nico Parker), sees a train coming and rushes to tell her brother. As the two of them wait for someone in the crowd of people getting off the train, the screen cuts to their father, Holt (Colin Farrell). As the family of three have an emotional reunion (involving a discussion about how Holt lost his arm during the war and, later, his wife), hey all make their way back to the circus to talk to Medici.
Holt and Medici also because his wife was a big part of the act. At the end of their discussion, both Medici and Holt agree that Holt's new job will be to take care of the elephants.
As Holt begins to take care of Jumbo (Dumbo's mom), he realizes that Jumbo doesn't want to leave her cage. He then realizes that buried under a pile of hay, is a baby.
When Medici sees the baby elephant, he becomes upset and distraught because of the elephant's ears. When he bought mama Jumbo, he considered the baby to be a business profit.
A while later, Medici decides to allow Dumbo to be in the circus as long as his ears are hidden. Unfortunately, Dumbo's ears are revealed during the circus and a bunch of audience members start to tease and ridicule him. Jumbo's mama instinct kicks in and she goes to protect her child, scaring many of the audience members in the process which leads to mama Jumbo being taken away by the person that sold her to Medici.
Later on in the movie after the whole circus discovered Dumbo's flying ability, Vandermere (Michael Keaton), another circus owner makes a deal with Medici to have their circuses collaborate and have Dumbo as one of the main acts.
Even though there were a few surprises with Vandermere- everything didn't end in his favor. His circus burned down, his girlfriend Colette (Eva Green) left him for Medici circus, and the best thing happened: Dumbo was reunited with his mom and they were both flown back to their home.
'Dumbo' was a tearjerker, and there were few dry eyes in the theater. Although it was emotional and at times heartbreaking, it was an inspiring and heartwarming movie.

About the Writer
Miranda Sandoval, Staff Writer
Miranda Sandoval is a senior and online editor for the South Lakes Sentinel. She enjoys writing stories and poetry, good food, and going on adventures.