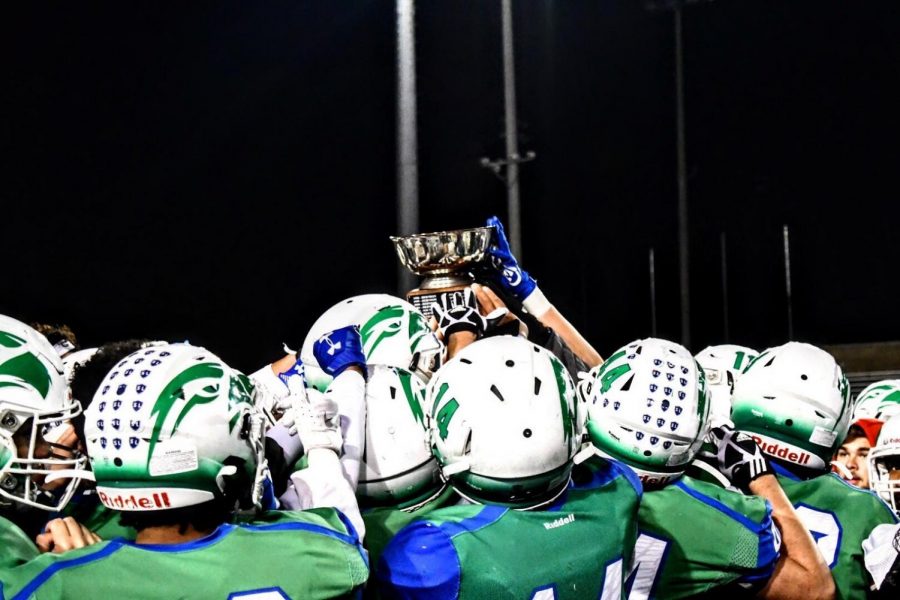 Rei Linam
A rivalry is something that all teams need to have in order to maintain a level of passion, no matter the sport. The way a team measures itself to their bitter rival is motivation for the players and coaches. The Baron Cameron Bowl is the local equivalent to Yankees vs. Red Sox or any great sports rivalry. The once one-sided affair with Herndon dominating until 2012(they had won 7 of the last 8). Since then South Lakes has won all but one of the matchups with the Hornets.
The final score was indicative of how the game went for both sides. When it was all said and done, it was South Lakes winning 54-6. The energy coursing from the students' section propelled the Seahawks to a big victory against their bitter rivals. The Seahawks scored early and often, scoring a touchdown on their opening drive and after they got the ball back capitalized again. Quarterback Marcus Miles found Wilson Seneca for a touchdown to make the score 13-0. Another touchdown later, and it was 20-0 after the first quarter. The weather became a factor as this game continued with temperatures in the low-mid 30s for the whole game and the wind picking up as it continued. They didn't stop there, scoring another 4(!) touchdowns in the second quarter alone. That is a good total for a game, let alone a single quarter of a game. With a score at halftime of 48-0 in favor of the Seahawks, the game was all but over. When the final whistle sounded, both teams had long replaced their starters and fans from the Herndon side had left. This was the most dominating performance for South Lakes this season, and a good time for it with them riding this victory into the playoffs.
Before the Seahawks even knew who they were playing next, they received announcement of their honorees. Andrew Benedetto received 1st team all district as a kick returner. Joseph Dagbe also got the 1st team honor as a wide receiver and punt returner. The rest of the players who got 1st team all district are James Earl(RB), Gabe Gibson(DL), Nick Haitz(DB), Ty Rankin(LB), Wilson Seneca(TE), and Eric Trichtinger(OL). The following players also got 2nd team all district honors: Andrew Benedetto(WR), DJ Cotton(DL), Joseph Dagbe(KR, DB, Def/Off AP), Gabe Gibson(OL, Def POY), Anthony Giordano(LB, RB), Marcus Miles(QB), Damianos Mylonas(DE), Connor Robles(PK), Marc Semelfort(C), Cristian Smith(DL), Donovan White(DB).Also a big congratulations to the honorable mentions. These players made the entire coaching staff proud and shows that hard work does actually pay off.
As far as the next game for the Seahawks, it was announced that they would be traveling to Chantilly to play the Chargers. The Chargers are 8-2, and figures to be a tough team to beat, but South Lakes is determined to break that narrative.