Freshman boys basketball loses to Madison, 45-38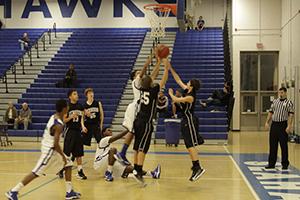 Hang on for a minute...we're trying to find some more stories you might like.
Freshman boys basketball played their eighth game of the season against Madison, losing 45-38.
Madison started the first quarter with the ball and scored the first basket. Point guard Marty Grynski was the first to score for South Lakes. South lakes led 11-8 at the end of the first quarter.
The second quarter started with strong play from point guards Taj Malave-Neely and Grynski, but Madison went into half time with a 23-18 lead.
South Lakes begins to catch up to Madison at the end of the third quarter, but Madison ended the quarter with a 32-26 lead.  Madison led throughout the half.
"The boys are doing very well," head coach James Parnham said. "They're getting better every day in practice and in the games.  I'm still very proud of them."
The loss dropped the freshman boys record to 4-4. They will play at Mclean Jan. 18 at 4 p.m.