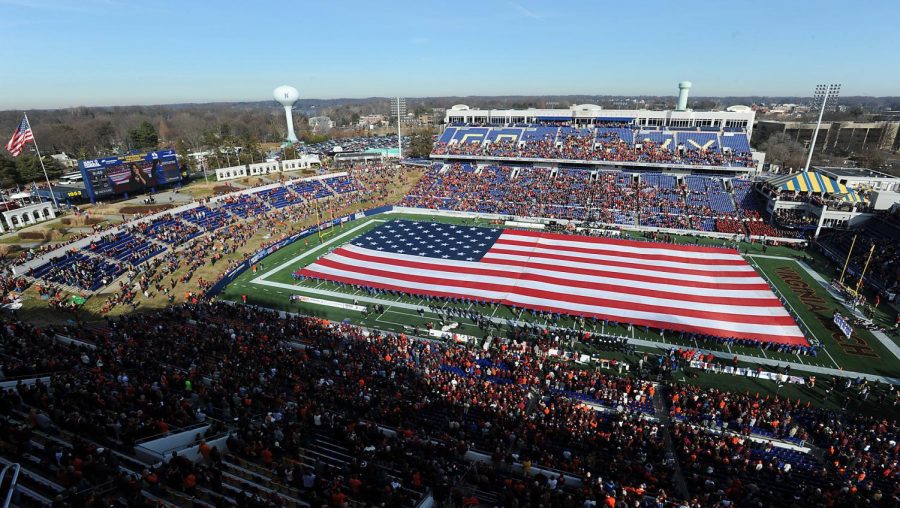 The Virginia Tech Hokies went up against the Cincinnati Bearcats at the Military Bowl, which took place in Annapolis, Maryland on December 31, 2018, Virginia Tech Hokies vs Cincinnati Bearcats. The Military Bowl is an annual postseason game (put on by the NCAA since 2008) that is between two Division I teams.
The weather throughout the Military Bowl was consistently cold and rainy, but that didn't stop the students or alumni from supporting their team. During the first quarter, Tech scored the first touchdown pass from player Ryan Willis to Eric Kumah. The pass was under review, because the cornerback on Kumah was called for a pass interference. Bearcat Charles McClelland grabbed a pass and scored a touchdown, leaving the score 7-7. At the end of the first quarter, Bearcat quarterback Desmond Riddler was left with an ankle injury after a tackle. The first quarter ended with the score tied 7-7.
The second quarter started off with a touchdown from the Cincinnati Bears' backup quarterback, Hayden Moore, who connected with another player for a 37-1 yard gain. Then, Kahlil Lewis ran over and scooped the ball over to the end zone, leaving the score 14-7. Tech tied the score again with another rushing touchdown from Steven Peoples. At the end of the second quarter, the score was 14-14.
In the third quarter, Virginia Tech took the lead with a field goal, leaving the score at 17-14. After that, Michael Warren sprinted to the endzone, putting Cincinnati in the lead. Tech was back in the lead with another touchdown, leaving the score at 24-21.
Once fourth quarter began, the fans waited anxiously to see who would win the close game. Another touchdown for the Bearcats was made by Hayden Moore, who sprinted in for a 19-yard touchdown run. There was another lead change, putting Tech into the lead with another touchdown by Ryan Willis. Michael Warren lead the Cincinnati Bearcats to the final with his winning touchdown, ending the game 35-31.
It was a close yet disappointing game for Virginia Tech, leaving them with their first loss since 1992.