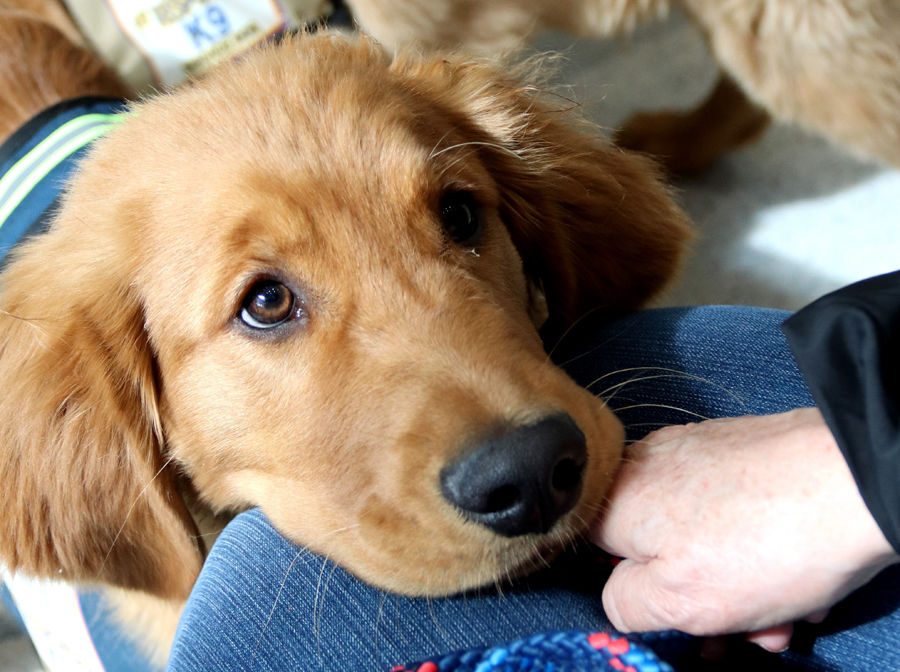 ƒ+h
The Fairfax County Police Department (FCPD) has begun training five new service dogs. Each dog has been named to honor fallen first responders: Indy, Sully, Jack, Lenny, and Holmes. The dogs are part of a new initiative Fairfax County has started as a way to give back to retired and active officers, along with community members who suffer from trauma. Three of the dogs are training to become service companions for disabled first responders. The other two will be deployed as therapy dogs to help reduce fear and anxiety in survivors of traumatic events. The dogs are sent out to scenes where officers and detectives are dealing with a stressful or horrific event, especially situations that involve children, or people who are emotionally upset.
The dogs will have to go through two years of training in order to meet the Americans with Disabilities Act (ADA) requirements for service dogs. Although the canines are currently only in basic training, they are already having a positive effect on the officers.
"The officers stop what they're doing. It grounds them a little bit; they're able to interact with the dog and then they go back to work," Jay Carson, director of Incident Support Services, said.
Another element of this program is mental health and suicide prevention. Chief Ed Roessler is one of the officers who has taken on the task of training a dog. He is aware of the concerning number of suicides the FCPD responds to and wants to reduce the stigma attached to asking for help.
"It's OK to not be OK — we will help you," Roessler emphasized.
Jill Milloy is a clinical psychologist with the FCPD who has taken on training Holmes, a ten month old golden retriever.
"The presence of dogs releases oxytocin, and when you release oxytocin, it interrupts the stress response. If you can bring down the stress level, we know that a potentially traumatic event is not as likely to stick with you," Milloy explained.
The dogs made their first public appearance last month at the FCPD headquarters, where the public was able to meet and hang out with the dogs and their trainers. People are already excited about the positive impact this new initiative is having on the community.