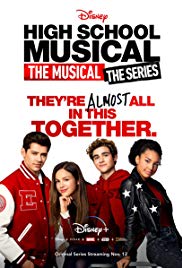 In 2017, Disney announced that they were releasing a "High School Musical: The Musical: The Series." They came out with the trailer over the summer and fans noticed that this wasn't a continuation of the movies, but a series following a high school putting on the musical. From casting drama to the actual musical, the series will show it all in a ten episode series on their streaming service, "Disney Plus," that will launch on November 12, the same day as the shows release. The series was even filmed at the same location as the movies, Salt Lake City, Utah at East High School.
The original High School Musicals (one, two and three) starred Troy Bolton (Zac Efron), Gabriella Montez (Vanessa Hudgens), Sharpay Evans (Ashley Tisdale), Ryan Evan (Lucas Grabeel), Coach Jack Bolton (Bart Johnson), and Ms. Darbus (Alyson Reed).
In a press release, Disney described the new characters: "Ricky (Joshua Bassett), the recently dumped class clown who decides to overcome his heartbreak by (what else?) auditioning for the school musical in an attempt to win back his lost love. Unfortunately for Ricky, his ex-girlfriend Nini (Olivia Rodrigo) is a natural performer who's finally found the courage to also audition for the musical! If you thought that was already dramatic enough, wait until you meet no-nonsense E.J. (Matt Cornett), the son of two lawyers (so that means twice the ambition!) who is not only Ricky's rival for the big role, but also the rival for Nini's heart! The rest of the characters are just as spirited: What's a High School Musical story without a drama queen? You can bet on "wonderstudy" Gina (Sofia Wylie) to channel Sharpay Evans' flair for theatrics, but with less pink and more ruthlessness. Joining the cast will also be Ricky's total skater dude BFF Big Red (Larry Saperstein), new student and aspiring songwriter Ashlyn (Julia Lester), overly-caffeinated student choreographer Carlos (Frankie Rodriguez), Kourtney's ride-or-die BFF (Dara Reneé), and the mysterious new drama teacher Miss Jenn (Kate Reinders)."
"The challenge we handed the creative team was Herculean. How do you recapture the joy and the magic of the original High School Musical movie… and simultaneously reimagine it completely? That's like trying to solve a Rubik's Cube blindfolded," Gary Marsh, president of Disney Channels Worldwide, stated.
Before Disney announced the series, a fake trailer went viral on the internet that had the original cast feeling nostalgic and fans feeling confused and anxious. The video titled "Once a Wildcat" featured an Ashley Tisdale and Lucas Grabeel remake of "What I've Been Looking For" that was posted on Ashley's YouTube channel, which added to the effect. Monique Coleman, who played Taylor McKessie, even admitted that the trailer gave her "all the feels." Bart Johnson who played Coach Bolton /Troy's dad in the originals also admitted that he would want to be in the spin off, sharing, "Troy got ALL his singing and dancing skills from his old man and I'm ready to teach summer school at East High this next year and let's get into this dance battle with the West High Knights and let the coach have his due in the center of the dance floor so I can show these fools what up!!!" (West High was East Highs rivals).
Fans are already excited for this reboot. It's clear that Disney is taking steps to bring back 2000's kids childhood shows and movies to intrigue and bring in new generations, as well as to make things fans of Disney Channel classics can enjoy.