To be a team
Advertisement
Hang on for a minute...we're trying to find some more stories you might like.
To succeed in softball, you need to be able to get along with your teammates. That is why softball is called a team sport: one girl cannot be the reason a team wins or loses.
Regardless of previous feelings towards one another, the moment you step onto the field, you have to put your differences to the side, work together, and respect one another.
The recently implemented "Big Sister-Little Sister" system between the junior varsity and varsity teams is a good example of working together and showing respect.
Juniors got paired with freshmen and sophomores were paired with seniors. Due to an uneven number of girls in each grade, some big sisters have two little sisters.
Starting this week, on Fridays, big sisters and little sisters will exchange little tokens in order to say good-luck.
This week is "big sister week", which means the big sisters are giving something to their little sisters. This rotates each week.
Softball is not now, nor will it ever be, a one women sport. The ability to get along with your teammates is something you must posses because if you want to succeed as both an individual and a team, you need them.

About the Writer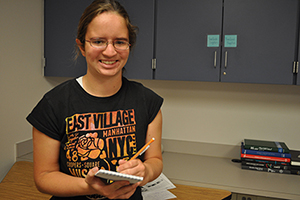 Meaghan McIntyre, online editor
Meaghan McIntyre is a senior and the opinion editor for the sentinel. As a third year journalist she is excited to expand her knowledge and skills involving...