Foodie and the Feast: satisfying lust for nachos
Hang on for a minute...we're trying to find some more stories you might like.
Lately, my body has been craving several different random food items, all unhealthy. First it was Five Guys fries, then nachos, and now cheese pizza. A couple days ago I satisfied my desire for fries and over the weekend I made some delicious nachos. Before venturing out to enjoy some pizza, I thought I would share a quick and easy nachos recipe to satisfy anyone else's potential lust for the scrumptious salty snack.
Ingredients:
Beans (refried, black, pinto, etc. depending on preference)
Tortilla chips
Salsa
Jalapenos
Shredded lettuce
Sour cream
Guacamole
Cheese (cheddar or pepper jack—or both)
Spread tortilla chips across a baking dish (13×9, 9×9, or 8×8). Then feel free to pile on beans and cheese, especially cheese, in copious amounts. Bake in the oven for about 10 minutes at 300 degrees, or until the cheese has melted. Finish it off with the rest of the toppings and enjoy.

About the Writer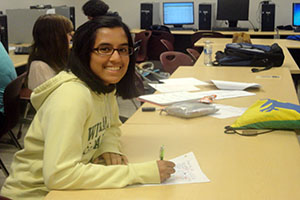 Gargie Nagarkar, features editor
Gargie is a senior who began writing for The Sentinel sophomore year. In addition to writing for the paper and powering through her full IB schedule,...