The off-season
Advertisement
Hang on for a minute...we're trying to find some more stories you might like.
No amount of prayers or hopeful wishes can keep the cold weather away. As the fall season progresses, the weather gets worse. Even over a weeks span, the temperature fluctuates from the mid 70's to the mid 40's.
There is no question that, unless you have an indoor field, it is nearly impossible to play softball outside all year around. If someone even attempts to, they could sick, have damaged gear, and would have endured a horrible experience.
When you play softball, the winter limits practice time. There are different routines to work on such as simple mechanics that are just as important as a typical outdoor practice.
The off-season symbolizes the period of time without games. It however, is not a time when you should go months without playing softball and then picking it up for the first time at training in the spring.
Everyone prefers playing softball outdoors but unfortunately, that does not always happen. It is important to remember that the work you put into off-season reflects during the spring season. You should be giving 100 percent all year-long.

About the Writer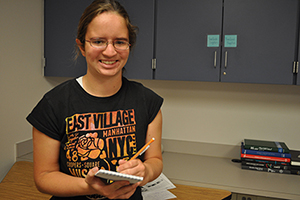 Meaghan McIntyre, online editor
Meaghan McIntyre is a senior and the opinion editor for the sentinel. As a third year journalist she is excited to expand her knowledge and skills involving journalistic writing. Her hobbies consist of reading, writing, listening to music, and most of all playing softball. Ever since she started softball at the age of seven, due to her older brother having started baseball way before that, the field has always been like a second home to her. One of her biggest dreams is to be an author and she is hoping on self-publishing a book during this school year. She is hoping to major in communications so she can become a Public Relations Specialist for a company that has a product or message that she is passionate about. Her hope is to keep up softball in college. No matter where she goes to college or where she lives in the future, she always wants to have time to write.