Trailers become necessary evil as student population increases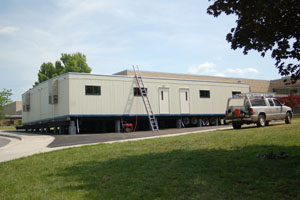 Charlotte Smith, staff writer
June 1, 2011
"They are the ugliest things in the world," said freshman Lauren Horlacher. This comment is just an echo of many, all which disapprove the new addition of trailers to South Lakes.
"Our school is such a beautiful place, but the trailers degrade all the hard work we've put into making this school look great," said senior Sampson Hijar. "They make the school look so ugly."
The new trailers are leaving students with the question of who exactly will be using them. With rumors circulating, it is hard to pinpoint the truth.
"Apparently the foreign languages will be in there next year, and I'm in Japanese. I really don't want to be in there, and my teacher said they were ghetto," said sophomore Kit Allgaier.
"I heard they were just for Spanish classes," said freshman Miki Konishi.  
Just recently, Principal Bruce Butler confirmed the buzz.
"World languages classes will be in the trailers," said Mr. Butler, via email.
Although there are a few superficial downsides to having to look at the trailers, it is an overall benefit to South Lakes.
"SLHS has grown in student population faster than predicted," said Butler. "The trailers will provide extra instructional space for students and teachers. All schools on the western side of the county are more crowded than predicted six years ago."
South Lakes is currently at 101% capacity, and according to Butler, adding the trailers will keep us close to this level. Apparently, other schools are all in the same boat. Herndon, Westfield, Chantilly and Oakton are over capacity. Madison is at 98% capacity.
The only difference between those schools and South Lakes is that other schools did not just endure a multimillion renovation a few short years ago. Many are asking, why did we not allot for this many students?
"Facilities Service professionals make predictions based on mathematical models and longitudinal trend data at that time," said Butler. "Models however cannot predict sudden swings in the economy, housing changes in nearby counties, or the popularity of the IB Program."
With such a large jump in population at South Lakes, it's hard to say what the future may hold.
"Housing around the new metro stops and future renovations to Reston Town Center may add more students several years in the future," said Butler. "If these future developments add a significant number of students, the county may add a small wing or few more trailers to increase instructional space."
Even if there are many complaints about the trailers, some students are looking forward to the new addition.
"I would love to have my first period in a trailer," said junior Lara Duffy. "Then I could just walk in from the parking lot."
Others are simply excited to have more students.
"I am all for more diversity," said freshman Spencer Smith. "More students is more fun."