German exchange students compare South Lakes to schools at home
Hang on for a minute...we're trying to find some more stories you might like.
Twenty German exchange students and three teachers arrived from Germany on October 3 and were hosted by students from South Lakes until October 19.
One teacher and ten of the students visited from the Martino Katharineum School, one of the oldest schools in Germany. The school will celebrate its 600-year anniversary in 2013.
The remainder of the group arrived from the Riccarda Huch Schule.
Students enjoyed the opportunity to experience a different culture by visiting South Lakes as well as touring memorials and museums in Washington, DC and New York City.
Once the students arrived, their perspectives of typical American students changed, as well ascertain stereotypes.
"I thought there were a lot of people who were fat," said German exchange student Simon Polley from the Martino Katharineum School.
 The students noticed various differences between their school and South Lakes.
"In Germany sports are outside of school," said German exchange student Caroline Mehnert from Riccarda Huch Schule. "It would be so much easier if the sports were in school because I have practice twice a week and I have to travel to different places."
Some German exchange students explained that their schools do not have a school team or a mascot. German exchange student Martha Tetzel from Martino Katharineum pointed out that the way students learn here is different.
"We get two different grades," said Tetzel. "Participation in class and homework are both graded. Here, I noticed that students don't seem to participate a lot. They get lectures a lot more."
At home, German students are allowed to leave campus and go wherever they want during their breaks. They also offered a couple of contrasts.
"It surprised me that here teenagers are allowed to drive at young age, but not drink," said German exchange student Sina Zimmermann from Martino Katharineum. "In Germany you can drink some drinks at the age of 16 and drive at 18."
Another difference in the United States that German exchange Lina Meynen from the Riccarda Huch Schule noticed is that American students are dependent on transportation.
"In Germany you have to wait until you are 18 [to drive]," said Meynen. "Everything is close by and we can walk, ride our bike, or take the public bus to travel from place to place. Also, when teachers are sick, we don't have to go to class, and we can go home or walk around town. There are no passes and no security around school."
 Max Pohler from Martino Katharineum noticed many dissimilarities between the two countries, particularly in the way that classes are structured.
 "I've seen some differences in the classes and around town," said Pohler. "Here the classes are very organized and I was surprised how organized the traffic was in the morning. I've been enjoying my time here and I hope to come back soon."

About the Writer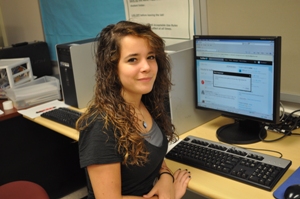 Viviana Del Toro, business manager
Viviana is currently a senior, loves photography and is fluent in four languages. Born in Italy, Viviana has lived in America since October 2009. She lived...