Be Amyazing Reston Youth Triathlon inspires kids to stay fit and fight cancer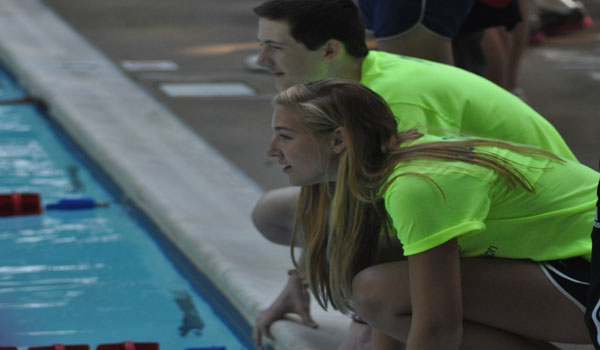 Grace Erard, news editor
June 1, 2012
Hang on for a minute...we're trying to find some more stories you might like.
300 young athletes swam, biked, and ran to raise money for cancer research during the second annual Be Amyazing Reston Youth Triathlon May 20.
The event began at Ridge Heights Pool and ended at South Lakes High School, with course lengths varying by age group. Over 100 student and adult volunteers were stationed throughout the course in order to help the competitors and cheer them on.
The event was organized by members of Amy's Amigos, a service club dedicated to raising money for cancer research. The group was founded in 2008 by sixth grade classmates of Amy Boyle, who lost her battle with a pediatric brain tumor later that year.
Those that knew Boyle remember her athleticism and determination.
"One thing about Amy is that as soon as she was old enough to run around and start playing she was really competitive and determined to keep up with her older brothers," said Boyle's father Mike Boyle.  "I remember one time when Amy was just old enough to run, seeing her run across a field and looking down at her legs and laughing because she was just thrilled by being able to live and run and do things like that. That's what we mean by 'Be Amyazing.'"
"Another time, when she when she was still really little, she caught a long football pass from her older brother and she was so small that it knocked her off her feet and she landed on her back," said Boyle. "When we all ran over to see if she was okay, she just busted out laughing because getting the touchdown was more important than if anything hurt her."
According to Boyle, his daughter's perseverance didn't falter in the face of her illness.
"Amy took that same determination and spirit into her battle with the brain tumor and, although that's a struggle that most of us will never have to deal with, she did it with dignity," said Boyle.
The creation of the triathlon was motivated by Amy's Amigos's desire to honor Boyle and her unique personality.
"We really wanted to something that would reflect who Amy was as a person and we thought that a triathlon would be a fun way to do it," said triathlon co-founder sophomore Olivia Wolfe.
The triathlon also gave Amy's Amigos the opportunity to introduce a new type of event to the community.
"Reston has two different triathlons, the main one for adults and then the sprint, and we thought that the next logical thing was a youth triathlon," said triathlon co-founder sophomore Kacey Hirshfeld. "We also wanted to encourage kids to have fun and raise money for a great cause."
The proceeds from the event went to the Childhood Brain Tumor Foundation, a nonprofit organization committed to raising funds for scientific research on pediatric brain tumors.
According to CBTF Vice President Carol Cornman, the CBTF plans to direct these funds toward research grants that are closely related to the type of cancer that Boyle had.
"The money raised will go towards research that will hopefully help find a cure or prevent brain tumors so that other kids won't have to go through what Amy went through," said Cornman.
Cornman also commented on the fun nature of the event.
"This triathlon is one of my favorite events because I love watching kids help kids," said Cornman. "My favorite part is seeing the smiles of the participants."
Triathlon co-founder sophomore Hannah Becker was also pleased by the way the event turned out.
"I think it was great," said Becker. "We worked out some kinks from last year and I think everybody had a good time."
Event organizers are already starting to plan for next year's triathlon. They hope that the Be Amyazing Triathlon will continue to be a part of the community even after the Amy's Amigos members have gone on to college.
"My long-term goal for the triathlon is for it to stay here and have an impact on the people in the community," said Wolfe. "We plan to keep doing it after we leave for college and we hope that the funds will one day help to find a cure."