Oklahoma tornado heavily affects school students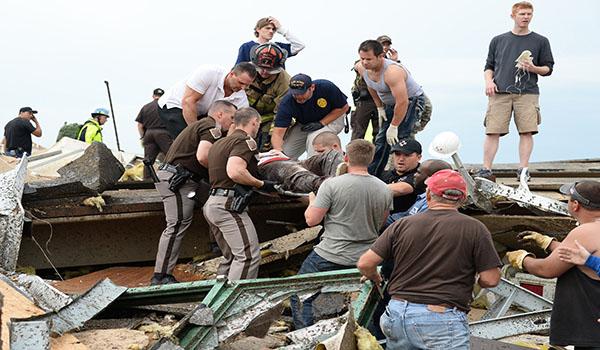 Charlotte Smith, features editor
May 21, 2013
"Worse than May 3rd" was the May 21 front-page headline of The Oklahoman, referencing the F4 tornado that hit the Oklahoma City region in 1999, killing 44 people.
Below lies an enlarged photo of blood-splattered teachers carrying injured students away from the pile of rubble that was once Briarwood Elementary School.
"The monster returned" follows.
As of May 20, the Oklahoma City medical examiner reports that at least 51 had died. But the death toll is climbing, as many are still trapped beneath the demolition.
In the affected 20-mile area, mainly the Oklahoma City suburb of Moore, laid two elementary schools that were torn to pieces during the 40-minute time span of the twister.
The Plaza Towers Elementary School students crowded the main hallway, hunkering down as the tornado ripped the roof off and toppled the walls. Eventually, the water pipe broke, flooding the area and leaving students trapped.
Seven children drowned.
Here, the Emergency Crisis Management Plan utilized by Fairfax County uses response techniques in an effort to avoid serious injury. It is a tremendous challenge.
"We would respond to a tornado exactly the way we would in drills," school safety and security specialist Brian Elliott said. "Actually, more planning goes into tornado drills because we have to fit 2,400 students and faculty into a small portion of the building."
While severe weather is common in the midwest region during this time of year, the first warning was issued only 16 minutes before the tornado touched down.
"We have a weather radio in the main office," school resource officer Scott Bacon said.  "We would be alerted by the radio in the case of severe weather and then implement the emergency crisis management plan which specifies what we would do in case of a tornado."
Despite the short warning, residents of the region took safety precautions and cowered down.
"I had one family friend who had to stay in a safe room that was built into her garage for most of the day," sophomore Kathryn Cole, who has family in Oklahoma, said. "But other than that my family just witnessed a bunch of wind and rain."