Alumnus to open Reston restaurant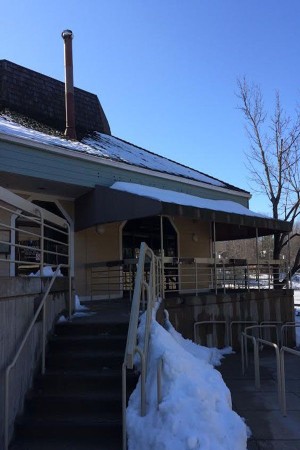 Advertisement
Construction will be underway in the South Lakes Shopping Center in the coming months with a touch of Seahawk flavor.
Seahawk Class of 2002 alumnus Ryan Tracy has plans to open up a full-service restaurant in the location formerly occupied by Lakeside Inn.\
Tracy will partner with his brothers, Pat and Matt, and their cousin John Jarecki, owner of the Light Horse Restaurant in Old Town, Alexandria.
"It's kind of like a dream come true for us," Tracy said. "I grew up riding my bike up and past South Lakes Shopping Center, and my parents took me to Lakeside Inn."
The idea came to Tracy after years of operating seven Five Guys in Florida with his father and brothers immediately after graduating from Miami (OH) University in 2006.
"I was actually all set preparing myself to go to law school after college," Tracy said. "But then the whole Five Guys venture came up in Florida, so instead of law school I decided to go flip some burgers."
Tracy decided to return to the area and search for places to build an establishment.
"We wanted to branch off and do our own thing," Tracy said. "We were looking all over the D.C. area. After being away from here so long, I realized I liked the Reston area. I plan on being here for a long time."
The name for the restaurant will be "Red's Table," inspired by Tracy's red-haired grandfather.
"The name and the restaurant itself to us is kind of where it all started for us," Tracy said. "Our grandfather came over when he was young from Ireland as an Irish immigrant, and for us that's where our family started. We wouldn't be here without him. It pays homage to our family and at the same time connects the fact that we all grew up in Reston."
Tracy hopes to combine his family history with the history of Reston.
"The idea behind it is relating our family history to the history of Reston," Tracy said. "In south Reston it feels like there are people who have hung around for decades, people can relate to that. We want people to come from all over to see us, but we really want the people of south Reston and Reston to call it their own, we want people from Reston to latch onto that."
Tracy plans to renovate the entire space into an open-kitchen style where diners can view chefs cooking and preparing plates.
The menu will include sandwiches, soups, and regional meats and fish.
"Everything is fresh, never frozen products," Tracy said. "We will be baking our own bread."
The restaurant has plans to open in late-summer 2014.