FCPS implements school calendar changes
Advertisement
Hang on for a minute...we're trying to find some more stories you might like.
Compared to previous years, the 2015-16 school year will begin later than usual. Under the new schedule, school will start Sep. 8 and end June 23.
This change in scheduling is due to the state mandate, nicknamed the "Kings Dominion Law" that requires Virginia schools to open after Labor Day. Tourism industries fought for this law because they believed that it would cost the state a large sum of money.
There were three potential bills that would have allowed schools to open prior to Labor Day. However, they were killed by a Virginia Senate panel.
Though this change has created mixed opinions among the student body, some people can see both the positive and negative aspects.
"I personally do not like it," freshman Evan Zimmerman said. "But at the same time, the school does give us as much free time as possible."
On the other hand, some students have a strong negative outlook on the subject.
"It feels like there is going to be less time for summer," sophomore Arianna Spencer said. "Also, there are already people who don't show up in the last few days so what is the point of extending it."
While the class of 2016 will not experience the full change because of graduation, the rising seniors still had an opinion.
"I prefer school starting earlier in September because it allows us to get out earlier in June," junior Mary McDonald said. "I am glad that it will not have an effect on us because we will not have to get out of school so late. We will have more time to do activities outside of school, such as going on vacation."

About the Writer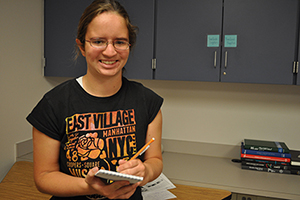 Meaghan McIntyre, online editor
Meaghan McIntyre is a senior and the opinion editor for the sentinel. As a third year journalist she is excited to expand her knowledge and skills involving...