When Tragedy Strikes: Paula Chaves on the Recent Hurricanes in Puerto Rico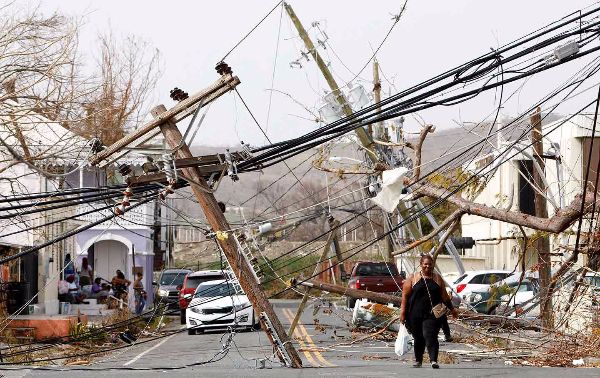 Hang on for a minute...we're trying to find some more stories you might like.
Two hurricanes, Irma and Maria, ravaged through Puerto Rico during September of this year, causing between $45 billion and $95 billion in damage. The storms destroyed houses and buildings in their path, leaving the people of Puerto Rico no choice but to pick up the pieces and overcome disaster. 50% of citizens are without access to clean water, and 95% have no electricity. To this day, Puerto Ricans are struggling to survive without these necessities, and many have even lost their lives.
To senior Paula Chaves, Puerto Rico isn't just another country – it's her home. She remembers clearly what it was like to have family members and friends in the midst of two devastating hurricanes.
"It was a scary experience… I didn't hear from my relatives for days. We were really worried…we didn't hear from them until after the hurricanes because they had no way of contacting us. Considering the circumstances, they're doing fine. My family was without electricity for 55 days, but they remained strong and had a positive attitude about it all," Chaves said.
Having such close ties to this tragedy, Chaves expressed great concern for the hurricane victims. She emphasized the importance of paying attention to problems within the community and around the globe. She also stressed that people should take action and reach out to those in need.
"People need to open their eyes to these issues," Chaves said, "Often times, people don't care unless they are directly impacted, and that's not right. Our government needs to help Puerto Rico, and the media needs to offer better coverage of this situation."
Because this is a matter of great importance to her, Paula Chaves and her mother worked to collect basic goods – such as canned food, water, batteries, and toiletries – for a drive sponsored by American Airlines in order to provide relief for the hurricane victims. Donations were loaded onto the airline's planes and delivered to Puerto Rico.
The Chaves family has also contributed donations to Red Cross and Los Pleneros de La 21, a nonprofit organization composed of Puerto Rican musicians that advocate for the wellbeing of their country and its people by celebrating their cultural heritage and raising awareness of local issues.

About the Writer
Miranda Sandoval, Staff Writer
Miranda Sandoval is a senior and online editor for the South Lakes Sentinel. She enjoys writing stories and poetry, good food, and going on adventures.