Hello, Hawaii!: SLHS Band Takes a Trip to the Aloha State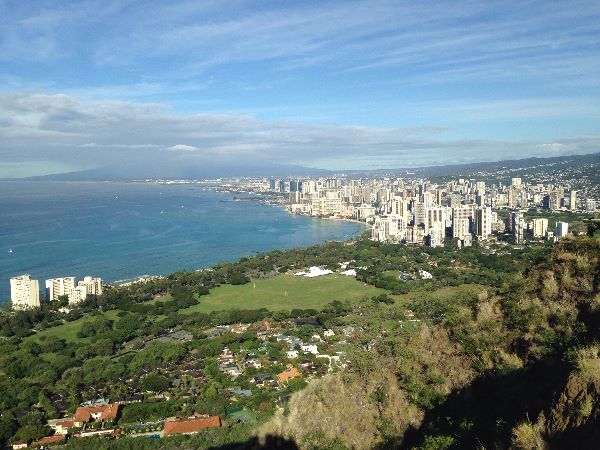 Hang on for a minute...we're trying to find some more stories you might like.
SLHS Marching Band and the ColorGuard had the honor of traveling to Waikiki, Hawaii, to perform in the Pearl Harbor Memorial Parade on December 7th. They are one of few U.S. marching bands that were invited to perform in the event, which commemorates survivors of the Pearl Harbor attacks and honors those that lost their lives during that tragedy. Amongst those present were members of the military, local officials, and dignitaries. The band students got to hear numerous survivors of Pearl Harbor speak during the opening ceremony. They eagerly waited until it was time to march through the large crowd that gathered, playing the "Armed Forces Medley" and the "Patriotic Salute." The Marching Band and ColorGuard spent several months rehearsing for this moment.
"Being selected to be in the parade was a big honor for our school, and I'm glad I was a part of it," said Delaney Kirr, a junior and member of the SLHS ColorGuard, "The performance went really well – the members of band and ColorGuard were in sync. I'm really proud of them."
After the parade was over, the students were free to spend the rest of their time exploring the 'Paradise of the Pacific' before returning home on December 10th.
One of the highlights during their stay included a visit to the Polynesian Cultural Center, where students could see a show, go on a canoe ride, buy cool things in the gift shop, and learn about the Hawaiian islands and culture. They also had the opportunity to tour the Dole Pineapple Factory, where there was pineapple ice cream and train tours of the fields. Of course, the students spent plenty of time on the beach near their hotel, in gift shops, and in ice cream shops.
"The band usually takes a field trip every year – we've gone to Boston and Florida before, but never Hawaii. It was like something out of Moana," Kirr said, referencing the 2016 Disney animated movie, "Hawaii was just how you would imagine it: palm trees everywhere, nice weather, sunny… it was pretty amazing. I love warm, tropical places – they make me happy. I hope we get a chance to go there again."

About the Writer
Miranda Sandoval, Staff Writer
Miranda Sandoval is a senior and online editor for the South Lakes Sentinel. She enjoys writing stories and poetry, good food, and going on adventures.