Meet Marty the Robot at your local Giant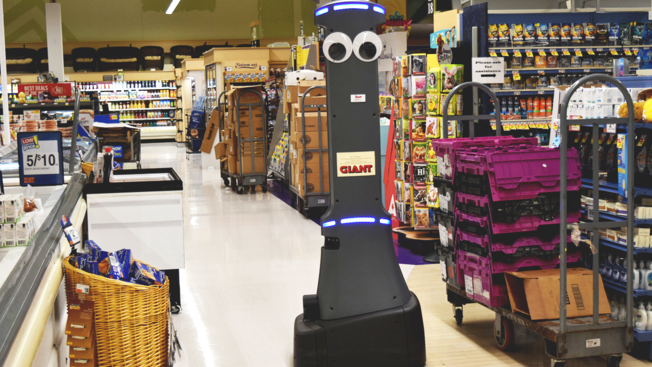 Jordan Anderson, staff writer
January 23, 2019
If you see a tall, gray robot with googly eyes patrolling the aisles of Giant, don't be alarmed! It's Marty the Robot, an unassisted machine that recognizes and reports hazards and out-of-stock items. Marty will work in coexistence with Giant employees while they spend more time with customers. 500 models will be situated to every Giant located in Virginia, Maryland, Pennsylvania, and West Virginia this year.
"Bringing robotics and A.I. from a research lab to the sales floor has been a very exciting journey, and we were thrilled by the customer response in our pilot stores," said Nicholas Bertram, President of Giant Food Stores, "Our associates have worked hard to bring this innovation to life with amazing partners."
There are over 59 Giants in Virginia. Some of the grocery chain locations include Reston, Herndon, Vienna, McLean, Falls Church, Fairfax, and Leesburg. Fortunately, Marty the Robot will not replace any employees. "Marty can't do the work that the associates do, so Marty is doing assistant work. He is also doing work that we currently don't have people doing on a routine basis," Patrick Maturo, manager of store optimization for Ahold USA, commented. Each store will benefit from the new addition and hopefully everything will run smoothly with Marty's aid.