The weekly wrap up: COVID-19 news briefing
Welcome to the "The Weekly Wrap Up: COVID-19 News Briefing," the Sentinel's now weekly news briefing on everything happening in Virginia and Fairfax County regarding the Coronavirus. Quick, factual and easy to understand information can be found here each week to update you on how Virginia is facing one of the most confusing periods of history.
While the rest of Virginia is beginning Phase One* of a slow and safe reopening process this Friday, May 15, Northern Virginia is remaining on lockdown through at least May 28, due to an executive order signed by Governor Northam.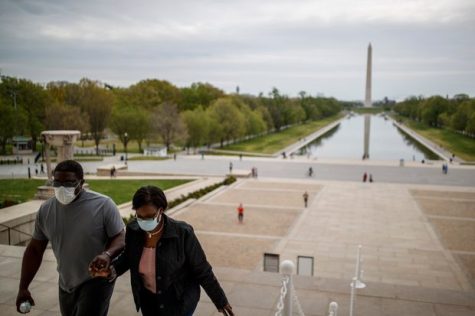 The number of deaths in Northern Virginia are completely disproportional the rest of the state. On an average day, the Northern Virginia/DC border region accounts for 70% of the commonwealth's positive coronavirus tests. If you look at the

John Hopkins live mapping

of the virus, Northern Virginia is a bright red hotspot of cases, while the rest of the state remains less compact and consistent. Northern Virginia is far more populated then the rest of Virginia and the communities are densely packed, making it easier for people to contract COVID-19.
Virginia reports 27,813 cases in total, with over 955 deaths from the virus.
Virginia's data made

international news

regarding concerns about the way information is being handled. Virginia's officials

have combined results from viral and antibody tests, which makes the reports look less dangerous than they are in reality. Combining positive and negative data results in effectively useless data. There are no federal guidelines regarding the way data has to be reported, which has allowed multiple states to polish their results and reopen prematurely. Virginia is not hastily reopening, and has earned praise for the way the crisis has been handled (

according to one study

76% of Virginians approve of the way Governor Northam is handling the crisis), but misrepresented data could pose a serious problem.
Virginia Reopening: Phase One*

Under Phase One of Virginia reopening, the more Southern portion of the state will move to a Safer at Home strategy, meaning most bans and restrictions are still in place. However, now retail establishments may have 50% occupancy, if six foot distancing remains. Restaurant and beverage establishments (like bars) may offer outdoor dining at 50% occupancy. "Personal grooming services," like salons and barber shops, may begin operating with "one patron per service provider." Gyms may now offer outdoor exercise. Campgrounds are now allowed to begin taking reservations.

Places of worship have been maintaining a 10-person limit and have been permitted to hold drive-in services. During Phase One, this may continue, but services can now be at 50% capacity. Many places of worship shared that

they will not be reopening.

A preacher in Virginia died of COVID-19, after mocking the virus online, becoming a national symbol of the precautions that must be taken.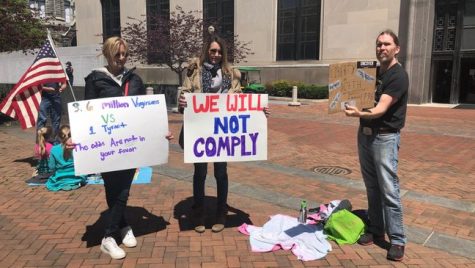 Richmond, Virginia, the state capital, has

faced protests

. These protests are lead by

ReOpen Virginia

, a conservative action group. They faced off against the Shelter In Place orders. These protests have been smaller in scale, and have not reached the level of popularity or national attention of rallies

in states such as Ohio

.
A bright spot this week:

Our Senator Tim Kaine and his viral fire bandana.
really digging post-apocalyptic Tim Kaine pic.twitter.com/fe5b4hnkgu

— Ryan Broderick (@broderick) May 12, 2020
About the Contributor
Helen Ehrlich, Editor-In-Chief
Helen is News Editor, Editor-In-Chief, founder and manager of the broadcasting department. She is the head manager of the Sentinel's social media. She...