Virginia Supreme Court blocks evictions as a serious issue is exposed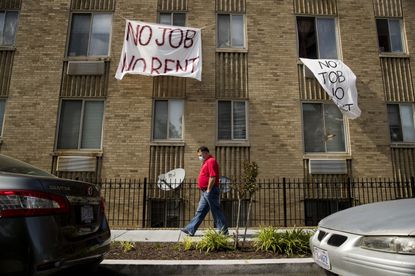 A renting crisis is looming in the United States. The U.S. is going to experience an eviction wave like never before. Mass evictions will sweep the nation, as many renters find themselves unable to pay their rent amidst the pandemic. The Supreme Court of Virginia has placed a moratorium (a suspension or block) on evictions until September 7, 2020.
In a normal year, Richmond, Virginia already sets the standard for high eviction rates, as a national hotspot. In 2016, Richmond was second in the nation for high eviction rates. About 1 in 9 renters in Richmond were issued eviction judgments, and white tenants were less likely to face eviction. This is only getting worse.
20% of Virginians who answered the U.S. Census Bureau's Household Pulse Survey stated that they were unable to pay their rent that month, or weren't confident they would be able to pay it next month. This hit Virginia's minority communities hardest, as Black and Latino Virginians disproportionately answered that they were unable to pay. "…This program will have an equity lens and target outreach to those communities," Governor Northam said.
Unemployment is up in Virginia, and without the regular business and tourism that sustains the state, it is only going to continue to worsen. Predictions state that there will be an economic crisis that completely overshadows the 2008 recession, and that will impact housing. The taxes that landlords pay directly benefit communities, but a wave of homelessness will sweep the states if renters are displaced in the middle of a pandemic.
The moratorium was put into place in March, but it expired. Local courts were blocking evictions in the transitional period, and the flood of evictions that were filed during that time shed a light on what is to come. Lawmakers will meet again on August 18, 2020 and Governor Northam wants to specifically focus on eviction-related legislation. There is a $50 million rent and mortgage relief program that is prepared to take effect.
The document reads, "Evictions for failure to pay rent have become a national crisis in these times of economic difficulties. There is not a person on this Court who does not share a deep concern for people in these circumstances. The differences expressed in this order have to do with the proper manner to address this issue."
As in many cases, the pandemic is revealing inequalities and weak spots that have forced people to suffer quietly for many years. The fragility of Virginia's renting has always been a problem, particularly for Black and Latino citizens, now it has been amplified.
About the Contributor
Helen Ehrlich, Editor-In-Chief
Helen is News Editor, Editor-In-Chief, founder and manager of the broadcasting department. She is the head manager of the Sentinel's social media. She...