VA's Governor Northam tests positive for COVID-19
Virginia's Governor Ralph Northam has tested positive for COVID-19. Virginia's First Lady Pamela Northam (former pediatric occupational therapist) has also tested positive. An employee working in the Virginia Executive mansion tested positive for COVID-19. The day after being informed, the Northams were tested and received positive results.
Governor Northam has been attending press conferences and voting while masked. Pamela Northam has similarly been making public appearances, while distanced and masked. Northam and his wife will remain isolated for the next ten days as they recover and work remotely. The Northams are now working with the Virginia Department of Health and the Richmond Health Department to trace the people with whom they came in contact.
Delegate Danica Roem from the 13th district, which includes some areas in Northern Virginia that surround South Lakes, tested positive for COVID-19. Delegate Elizabeth Guzman from District 31, a region of Northern Virginia, awaits results. She urges others to take precautions and get tested.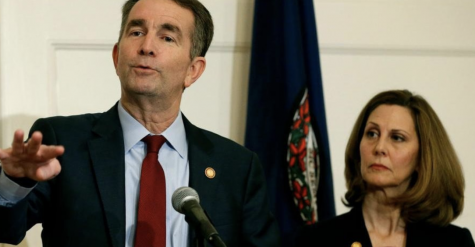 The governor, who has been a proponent of the legitimacy of the pandemic and the importance of wearing masks, used his diagnosis as a way to emphasize to Virginians the serious nature of the virus. Northam stated, "As I've been reminding Virginians throughout this crisis, COVID-19 is very real and very contagious. The safety and health of our staff and close contacts is of utmost importance to Pam and me, and we are working closely with the Department of Health to ensure that everyone is well taken care of. We are grateful for your thoughts and support, but the best thing you can do for us—and most importantly, for your fellow Virginians—is to take this seriously."
Governor Northam is yet to exhibit systems, but Pamela Northam is reportedly experiencing "mild" symptoms.
About the Contributor
Helen Ehrlich, Editor-In-Chief
Helen is News Editor, Editor-In-Chief, founder and manager of the broadcasting department. She is the head manager of the Sentinel's social media. She...