FCPS not returning students to school in January
The Fairfax County Public School (FCPS) Board decided to pause the plan to get students back in the school building, citing the rising COVID case numbers. Few seem surprised by this decision. Although it's frustrating to not be in school for students of all grades, FCPS made their decision based on data and safety, not empathy.
The return to school plan was originally to take place on January 26th for freshman and seniors, then include sophomores and juniors the following month. Bell schedules were changing to compensate for concurrent learning situations, while teachers prepared their strategies for the upcoming events as well.
Cases reported in the Northern region of Virginia hold a valid case against these ambitions. The Virginia Department of Health has reported a spike in COVID-19 cases recently, and the School Board has recognized that hoarding students into school buildings isn't reasonable at this time. As of January 7th, the data for the past 14 days shows that per 100,000 people, 512.3 are confirmed new cases, with 13.3% RT-PCR tests coming back positive
FPCS explicitly stated that everyone will transition back to distance learning if "the number of cases per 100,000 persons or the percent positivity exceeds the established threshold for the group for seven (7) consecutive calendar days." The threshold per 100,000 persons for the highest risk of transmission stands at "greater than 200," and as clearly stated previously, that number is clearly exceeded by 312.3 persons.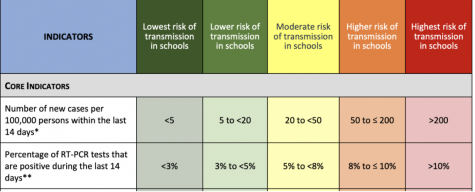 This official chart can be found on the CDC website outlining the numerical specifics of these school restrictions.
Additionally, some schools in Fairfax County have already experienced outbreaks, even without school in person. The school board made their decision based on valid data and research, and they did what they believed to be in the best interest of the county.
About the Contributor
Taylor Anderson, Opinion Editor








Taylor Anderson is a junior at South Lakes and is the Opinion Editor for the Sentinel. She is a part of the SLHS varsity...