FCPS teacher educates while deployed & National Guard troops to remain in DC through March
Troops to Remain in DC
5,600 National Guard troops are to remain in Washington DC through at least mid-March. After serious unrest in the District and a great deal likely on the horizon, acting Secretary of the Army John Whitley decided to take no further risks.
Occurrences of violence were steadily increasing in DC after the election of President Biden. Then, after the insurrectionists stormed the Capitol Building, security was heightened across the Washington Metropolitan Area. Now, the 15,000 troops that were brought into the District for the inauguration will be staying behind to support the National Park police, Metropolitan Police and Secret Service.
"There are several upcoming events — we don't know what they are — over the next several weeks, and they're concerned that there could be situations where there are lawful protests, First Amendment-protected protests, that could either be used by malicious actors, or other problems that could emerge," Whitley said.
Nearly 200 National Guard members have tested positive for COVID-19, raising further concerns about DC's already rising COVID numbers. Beyond the fact that 17% of members are infected, 12 National Guard members were removed from duty in the District after they were identified as having ties to far-right militia groups.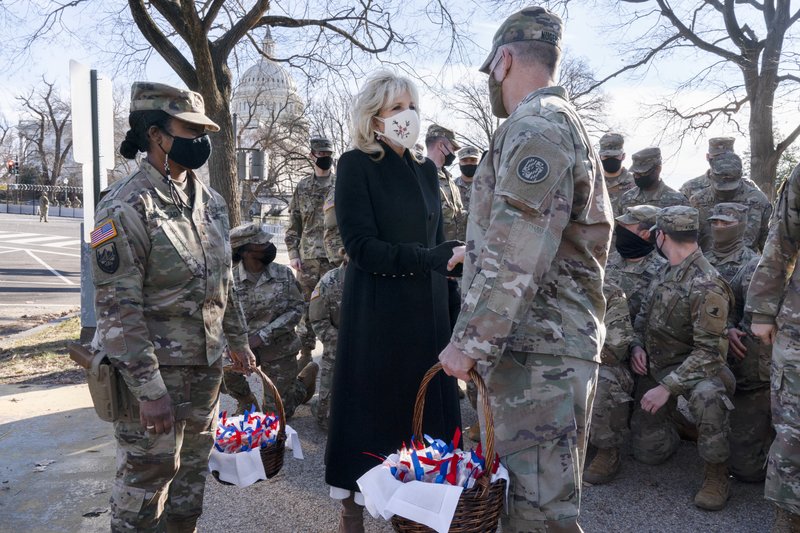 Local Teacher in National Guard
DC National Guard Sgt. Jacob Kohut was deployed on January 13, but he also teaches band at Canterbury Woods Elementary School and Frost Middle School. He was called into duty to protect the capital during the inauguration and after the riots. Many members of the National Guard are not full-time active duty personnel, but they must be prepared to be deployed at any time.
He spends his early mornings teaching classes. Then, at 10 AM, his 12-hour shift begins for the Guard. He teaches from inside a High Mobility Multipurpose Wheeled Vehicle "humvee" and on the ground in the DC Armory. He has served for over 11 years as part of the 257th Army Band.
"I'm a soldier for the Guard, but I feel like I am as much a soldier for music education," Kohut told the Washington Post.
This is what a hero looks like. A member of the DC National Guard, our band teacher Dr. Jake Kohut has been working around the clock since Wednesday to protect our nation's capital. And between shifts, he is dedicated to CWES students, teaching from DC. @fcpsnews @FrostsPrincipal pic.twitter.com/nsDRuV08OQ

— CanterburyWoodsES (@Canterbury_Wood) January 13, 2021
About the Contributor
Helen Ehrlich, Editor-In-Chief
Helen is News Editor, Editor-In-Chief, founder and manager of the broadcasting department. She is the head manager of the Sentinel's social media. She...