Thousands of Fairfax County Children Receive Vaccine after Release
An uptick in vaccination rates has occurred in Fairfax County as children begin to receive the newly released COVID-19 vaccine.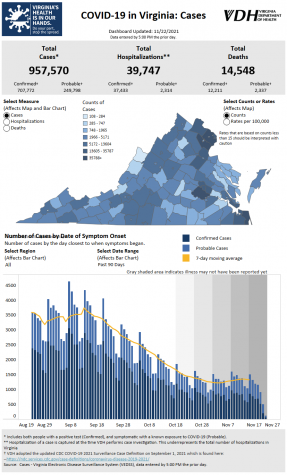 Newly updated vaccination statistics show that a total of 21.62% of residents aged 5-11 have received a dose. Although this is a far cry from the vaccination rates that other age groups boast , this is still a significant amount of progress considering the minimal time that has passed since the vaccine has become available for children.
The official vaccine rollout began when First Lady Dr. Jill Biden made an appearance at Franklin Sherman Elementary where the first Polio vaccine dose was administered. Accompanied by U.S. Surgeon General Dr. Vivek Murthy, the First Lady oversaw the first children in Fairfax County to receive the Covid-19 vaccine.
FCPS has set up vaccination clinics within schools across the county. The clinics are open during weekdays and certain weekends with varying times. FCPS has expressed interest in plans where these clinics are open during school hours, however, this will most likely materialize after the students' winter break. Additionally, FCPS has collaborated with Inova and the Members of the Virginia Chapter of the American Academy of Pediatrics to help deliver doses and administer vaccines to children.
Mass vaccination sites have also been established, however, walk-in vaccinations have been temporarily suspended. Until further notice, they are currently only accepting appointments. On the other hand, children may get vaccinated at the school clinics with guardians filling out an appointment form, or a guardian being present when a child is receiving a dose.
The clinics are available to all children, regardless of what school they attend.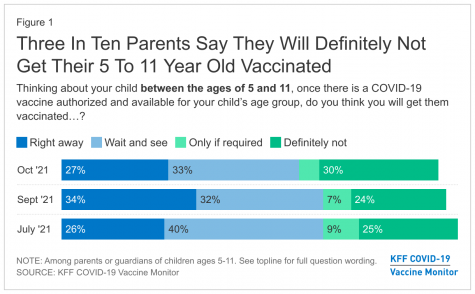 However, that isn't to say that parents rushing to get their child a vaccine as quickly as possible is a given. In fact, many are hesitant to get their child vaccinated at the moment. According to a recent study conducted by the Kaiser Family Foundation, only 27% of parents would get a vaccine for their child as quickly as possible, and a staggering 30% of parents said that they would not get their child vaccinated at all. Growing vaccine hesitancy and parents concerned for their child's safety have certainly contributed to this, but many parents have also said that they will wait and see, meaning that it is likely many parents will get vaccines for their children in the coming weeks and months.
Recently, there has been a decrease in Covid-19 cases within Fairfax County. However, rates are still higher than the lowest point back on July 24, but that was before the disastrous Delta variant entered Fairfax County and was catastrophic across the nation.
It has been forecasted that cases will continue to dip with the recent release of vaccines for 5-11 year olds. However, health experts aren't sure this trend will continue since the holiday season is beginning which means travel will pick up and an increase in individuals going out is expected.
With the recent introduction of vaccines for children, an uptick of cases overall may diminish, however, health officials are imploring everyone who is eligible for a vaccine to receive one as quickly as possible. The future of the pandemic is uncertain, but with these recent developments it may end quicker than expected.