Seahawk Chorus is Back and Better than Ever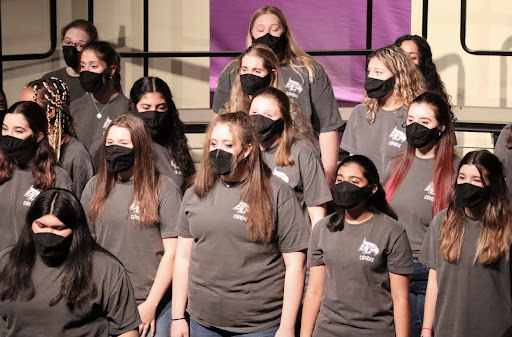 On November 30th, 2021, SLHS Chorus had their first live performance since the beginning of 2020. After an unforeseen circumstance that delayed the initial date of the fall concert, the chorus took the stage and put on a beautiful show. "Tonight, we present music to you as a healing power; showcasing its ability to bring together a group of people after a year of disconnection, and to heal the feelings of isolation produced by the pandemic," said senior Harshini Venkat during the show.
During 2020 and half of 2021, the choral program was entirely virtual. The annual concerts still took place, but through a screen. Each student pre-recorded their part, and all the recordings were eventually mixed together to form a cohesive sound. "Online chorus made me happy, but nothing online can replicate the feeling of how we can connect energetically, musically, and at a deeper level with each other, and our audience. When we are live, we can feel something," said director Ms. Rita Gigliotti. Putting on a virtual show is a ton of work, however, the end result is sure to leave a lasting impression on all those tuning in to watch.
Many underestimate the many hours that go into putting on an in-person show. The songs are not perfected over night! The choir students have been learning and rehearsing their music since August, and eventually adding some choreography into their songs to add a touch of spice to them."Doing it [choreography] can be difficult at times, but once you get everything memorized it is super fun and makes the number even more exciting. I find that sometimes, without choreography it feels like something is missing," said senior Ally Kroon, a Camerata ensemble member.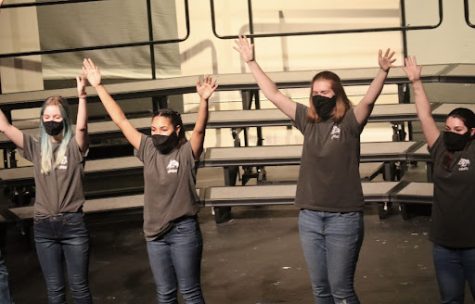 A big theme throughout the chorus program this year is that of human connection and how we can reunite people through song. In Ms.Gigliotti's case, she felt that bond from the first moment she conducted her students at the show. "I felt joy, pride, and gratitude. It was surreal and made me a bit emotional. To have this feeling come back, makes me feel fulfilled," she said.
For the class of 2022, it is a year of many lasts. Last homecomings, last game days, and last chorus concerts. Senior Jaeya Taxali reflects on the bittersweetness that is senior year by saying, "I have formed my own choir family of people I can rely on, and I am deeply going to miss them, and performing with them."
When you sing with someone in an ensemble, you need to have a certain type of camaraderie and relationship with them, many students do have this with their choir peers, and Taxali confirms this by saying, "I have met my best friends through choir and the people who share the same values and passions as me."
While virtual chorus was grueling, the seahawk choral students without a doubt have bounced back from this challenge. The fall concert was a true representation of the satisfaction that songs can provide people, and it gives the students in the program a reason to keep making music, even if at times it is difficult.
Make sure to come to the holiday concert on December 16th!