Post Winter Break FCPS COVID Policy Update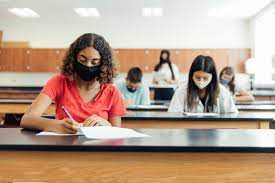 In light of recent spikes in COVID-19 cases over the holiday break, Fairfax County Public Schools have released updated policies regarding quarantine and isolation requirements for students and staff.
Return Guidance: After Quarantine, Pause, or Isolation
In line with new guidance from the CDC, FCPS will implement a five day quarantine for students and staff in response to official recommendation. In addition, a five day isolation period for staff will be adopted, differing from the ten day period of isolation required for students testing positive for the virus.
Return Guidance: Students Positive for COVID-19
Return guidance criteria for students with COVID-19 has remained relatively the same. According to FCPS, the exact criteria is as follows:

Close Contacts: School Related Exposures
In the case of a student's close contact with COVID exposure in a school setting, criteria from one of two options can be met if the student exhibits asymptomatic tendencies.

Although, asymptomatic students and staff who have met CDC criteria and are able to wear a face mask may be exempt from quarantine options. FCPS requirements state that for exemption, "Students must complete the FCHD vaccination survey, and receive a clearance email from the FCHD prior to resuming in-person learning and activities, and staff must complete the Fully Vaccinated Exemption Form."
Close Contacts: Community Related Exposures
In a new development, FCPS has released guidance for students exposed to COVID-19 "in the community, or outside of the school environment". No longer requiring Return to School documentation, FCPS only recommends that families consult the Fairfax County Health Department (FCHD) for quarantine guidance or a physician/health care provider.
For further quarantine and return to school updates, please reference the Health and Safety Guidance Document on the FCPS website.