The Uncertain Future of DC's Chinatown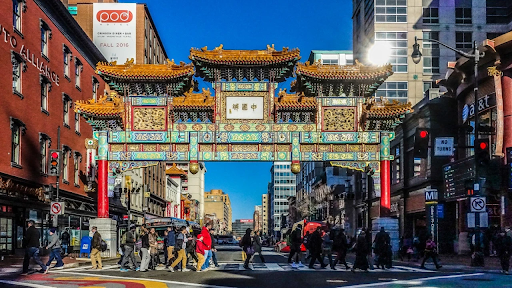 Washington DC's Chinatown faces uncertainty after a slow post-pandemic recovery and a rise in commercialization due to the city's ongoing gentrification. After a whirlwind past two years of quarantines, anti-Asian violence, and increased urban renewal, this celebrated shopping district and historic landmark for the DC community is bracing for a turbulent future.
In 2020, the lockdowns and rise of anti-Asian violence from the pandemic devastated Chinatowns across the country, and fewer people leaving their homes meant a steep decline in profits for businesses in these neighborhoods. The virus's origins in Wuhan, China fueled a wave of xenophobia that sent shockwaves across the Asian and Pacific Islander community, with hate crimes against Asians rising a staggering 339% in 2021. With Chinatowns on edge and their Asian employees afraid for their safety, many of these businesses were forced to lay off workers or completely halt production. With a lack of staff and customers, Asian-owned restaurants and businesses in these districts were put through an emotional and financial crisis, leaving many to be permanently shut down.
While it feels like the world is returning to normality in 2022, D.C's Chinatown is struggling to catch up with this positive trend. Their fight to recover poses the question of Chinatown's future survival. Many businesses were permanently closed due to the pandemic, but this temporary setback overshadows another challenge: gentrification and DC's ever-increasing price of rent. Gentrification is the process of rebuilding usually low income areas of a city, resulting in an influx of wealthier classes while the poor are pushed out of their former homes. Washington DC neighborhoods have one of the highest gentrification rates in America at a staggering 16.8 percent as of 2020. As the land becomes increasingly more valuable, many original Chinatown business owners have been forced out due to the cost of living.
With this downward trend of authentic Chinatown establishments, new complaints about the district losing its original charm have begun to surface, arguing that the once predominantly Asian community with bustling stores and restaurants has now become a ghost town of artificial chain restaurants like Panda Express. Adding to the increasing commercialization of the district, the research sheds light on the changing demographics of this neighborhood. DC's Chinatown has only 300 Chinese Americans left; a mere fraction of its peak population of 3,000 in 2010, with only 21% of the population being Asian or Pacific Islander. These statistics are reflected in the businesses created in the neighborhood; fewer Asians in the district naturally point to a decline in Asian-owned establishments. With the transforming population, there remains a looming concern from the Asian community as to how their decreasing numbers in Chinatown will be able to carry the traditions that make the district so treasured.
With the sheer severity of the pandemic's damage, it's questionable how the district plans to move forward in the coming years. But despite these concerning times for Chinatown, current shop owners and Asian advocates still have hope for this beloved DC district. According to the Chinatown Service Center website, the best way to help sustain this community is to simply buy a meal at small restaurants, donate directly to organizations, or attend local events such as the Mid Autumn Festival and Lunar New Year celebrations. The fate of the DC Chinatown now rests in the hands of the DMV people, and by making the effort to get involved in this decade-old neighborhood, we can take the first step to keep this community alive for generations to come.