South Lakes Students Protest New Model Trans Policy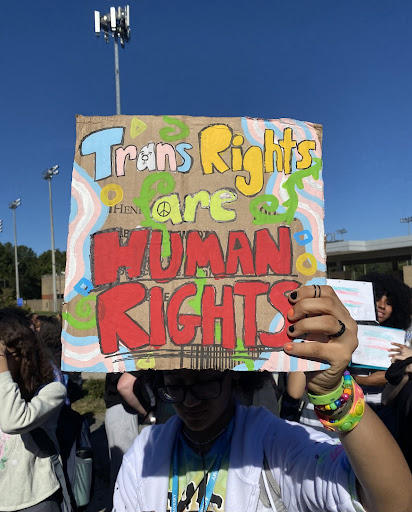 Virginia Governor Glenn Youngkin won the election by promising to reinforce parental rights in education, but he is now facing backlash from the voters' children. The Virginia Department of Education (DOE) proposed a new model policy earlier this month that was designed to increase the power of parents over their children's experiences in school. While lauded by many parents, these measures seem to have done nothing but light the fuse under students, as reactions to the Youngkin administration's actions have sparked student walkouts across the state. In coordination with the Pride Liberation Project, South Lakes students organized a walkout to protest the rewriting of the states' model policies regarding transgender students.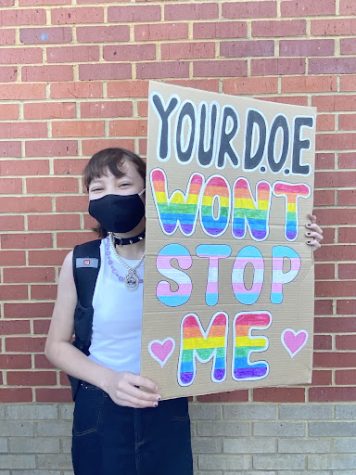 The new model policy severely limits the freedoms of transgender students, preventing them from changing their names and pronouns without parental permission, and mandating that students use the bathrooms that match with the sex they were assigned at birth. The model policy also encourages staff and counselors to tell parents about their children's gender identities, even if the student has requested that the information remain private. This is especially worrying when considering that trans students are more likely to struggle with mental health issues and more likely to contemplate suicide than other LGBTQ+ youth.
However, the issue affects all students who attend South Lakes: "I want to stress that while these policies harm transgender and non-binary students the most, all queer students are affected by these policies," student organizer Rishi Chandra commented. "Even if you aren't queer, these policies can still affect you. For example, parents can opt [their] kids out of guidance counseling."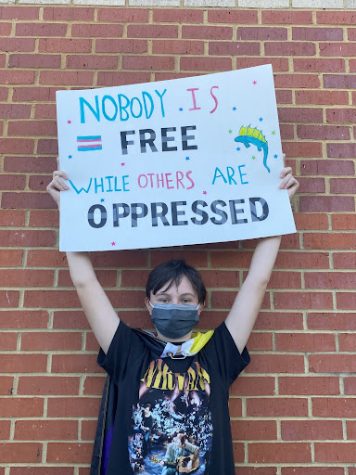 Taking place during SS 1, students walked out to the picnic tables by door 4, where the walkout's organizers spoke about the importance of trans students rights to an appreciative audience. The crowd of students was speckled with colorful signs supporting the trans community, and sometimes the speakers struggled to be heard over the chants of: "Trans rights are human rights!"
"First and foremost, we hope to spread awareness and attract the media to this issue. We hope that with enough media coverage, our outrage will be noticed, and, ideally, we hope that the DOE will revoke these regulations completely," student Oaklen Kalinichenko expressed. "However, if that doesn't happen, we hope for the school boards of each county to be clear that, if passed, they will reject these regulations and continue with their current policies."
Fairfax County Public Schools Superintendent Michelle Reid has said that FCPS intends to review the model policy. In the meantime: "We remain committed to maintaining equitable opportunities and access for each of our students, staff, and families in a justice-centered, future-focused, and student-driven school environment."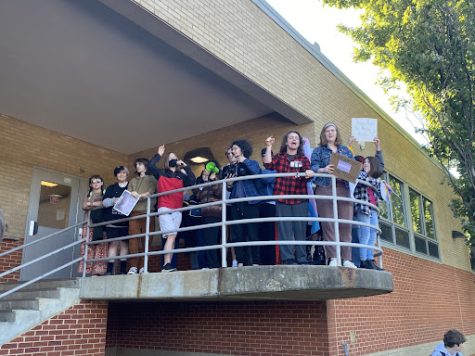 If you're interested in contributing to the conversation, leave a comment on the DOE's website here. The model policy is open for public comment until October 26th. Feel free to reach out to the Pride Liberation Project and the South Lakes Gender and Sexuality Alliance (GSA) for more ways to be involved. GSA meets every Wednesday at 405 in room 504.