Women's Bathroom Murder Sparks Outrage on South Korea's Stalking Laws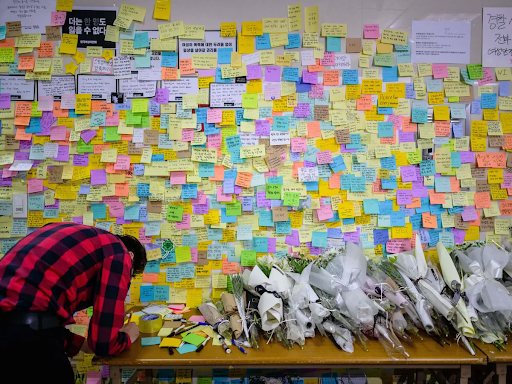 A 28-year-old woman was killed in a Seoul subway bathroom by her stalker, inciting outcries for stricter stalker laws in South Korea. The woman was working her evening shift at the Sindang subway station, unaware that 31-year-old Jeon Joo-hwan was waiting for her. He stood outside the bathrooms wearing gloves and a shower cap, and after more than an hour of waiting, went inside the bathrooms and stabbed her multiple times. The victim managed to trigger an alarm that alerted staff, who rushed in to restrain the attacker. The woman died at the hospital due to her injuries. Her family chose to keep her identity anonymous.
Officials quickly learned that this wasn't the victim's first encounter with Jeon Joo-hwan. They first met in 2019 when they worked together for Seoul Metro, which runs most of the capital's subway lines. The harassment started a year later in 2020, which included calling the victim more than 300 times and threatening her safety if she didn't date him. After discovering that Jeon secretly recorded videos of her, she reported him that October, resulting in him being fired and arrested. However, despite consistent pleas for his detainment, Jeon was released without jail time or even a restraining order. Two years later, Jeon has now been arrested for the woman's murder.
Regrettably, this isn't the first time a Korean woman was killed at a public restroom near a subway. In 2016, the Gangnam station femicide occurred when a man stabbed a 23-year-old inside the bathroom, who was motivated by his resentment of women. The similarities between the 2016 femicide to the new murder is painful proof that the law has failed to create more protections for stalking victims.
Critics say that the slow political response to these stalking incidents is because the issue mainly affects women, with almost 80% of stalking victims in South Korea being female. Protesters are arguing that the police force and courts don't take stalking seriously, which disproportionately results in the deaths of young women. Until 2021, stalking was still considered a misdemeanor in South Korea where the offender could only be punished by a meager fine. Last October, the government passed historic legislation that gave stalkers a maximum sentence of three years in prison. However, a loophole in this anti-stalking law is that police can only charge stalkers with the consent of the victims. While this may seem like a reasonable regulation, victim advocates say that stalkers can easily pressure or blackmail victims into not pursuing charges. According to a BBC article, the South Korean police have made 7,152 stalking arrests since the law was passed, but only 5% of the alleged offenders have been imprisoned. Public pressure is mounting on South Korea's President Yoon Seok-yeol to enforce harsher punishments on stalkers. He reportedly recognizes that the current laws aren't sufficient to protect victims.
While South Korea has been a driving force in Asia's #MeToo movement, it's still on the lower spectrum on the gender equality scale, ranking 99th out of 146 countries by the World Economic Forum. This most recent woman's murder has received overwhelming public response. Protests have broken out across the country demanding justice for her death. Protesters are fighting for stronger protections for stalking victims, but the lack of political response from the 2016 femicide has made some doubtful that a new murder will bring any concrete change. Despite some people's mistrust of the government's management of stalking crimes, there's no question that the people of South Korea are determined to make sure this preventable violence is never repeated, no matter how long that goal may take.