2022 Midterm Elections: What to watch!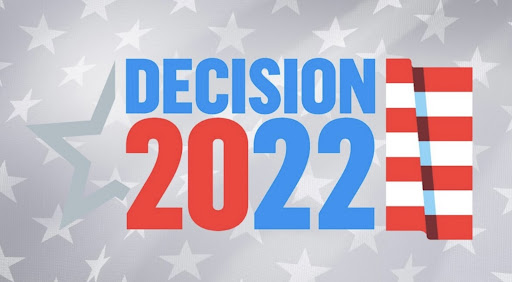 The 2022 Midterm Elections are now only 22 days away, and no less than control of the US congress, state governments, and Biden's agenda are at stake. Election day is on November 8th, and right here at the South Lakes Sentinel, we'll be covering it until the end. But what exactly is there to watch in this election?
A midterm election is a national election that takes place halfway through the incumbent president's term. President Biden was elected in 2020, and came into office with an advantage. His party, the Democrats, held control of both houses of congress. Due to this, his party has enjoyed some legislative victories. All of that could change however, as control of both houses of congress are up for grabs in less than a month from today. A midterm election is widely viewed as a referendum on the president's job performance. As of early October, President Biden has a 43% approval rating. Historically, when a president enters a midterm with an approval rating under 45%, their party loses seats in both houses of congress. Not only are congressional races worth watching, but also races for governor and state legislatures in dozens of states.
Perhaps the most consequential and widely watched chamber of congress in this election is the United States Senate. The US Senate, being the upper chamber of congress, votes on anything passed in the US House. It decides nominations for federal judges and executive cabinet members. The presidential administration's political trajectory is often contingent on whether or not their party has control of the Senate. Going into this election, Democrats hold 50 out of 100 senators, with VP Harris casting tie-breaking votes. This has made it difficult to pass bills, because of a few moderate democratic senators. There are approximately 10 competitive senate races, from the Midwest, to the northeast, to the southeast and the southwest. The competitive races are in Pennsylvania, Wisconsin, Ohio, New Hampshire, North Carolina, Georgia, Florida, Colorado, Arizona, and Nevada. Democrats hold half of those seats currently, and republicans hold the other half. Current projections from the election statistics blog 538 are giving democrats a two-thirds chance to hold the chamber. This may be due to republicans nominating controversial candidates in swing states. Of course, as we've learned the last few cycles, the polls can indeed be wrong.
The US House of Representatives is up for election this cycle, and it is a fundamentally different story compared to the Senate. Democrats flipped the chamber in 2018, and narrowly held onto it in 2020, after unexpectedly losing some seats. Democrats now only hold a seven seat majority, which on paper creates a path for the GOP to take back the chamber. Currently, 538 forecasts that republicans have a 70% chance to win back the House. In order for democrats to hold onto the chamber, they would have to hold onto numerous swing districts.
Lastly, races for governor around the country have drawn considerable attention. In many ways, they have taken on heightened importance in the wake of the 2020 presidential election, due to former president Trump's claims of a stolen election. In four states, Trump-endorsed republican primary candidates for governor advanced to the general election. Many of these candidates have vowed to vastly change the vote counting process in their states, due to their belief of a stolen election in 2020. This has also happened in republican primaries for secretary of state. Observing gubernatorial elections is interesting because there isn't a prize for winning governorships, however governorships can check the power of the federal government, by refusing to institute certain policies signed into law.
A national election only occurs once every two years, therefore this election will be highly watched not only nationally but internationally. Approximately 158.3 million votes were cast in 2020, which was the highest raw voter turnout in our country's history. Let's see where this one ends up!