The World's Most Critical Rainforest Just Learned its Fate in Brazil Election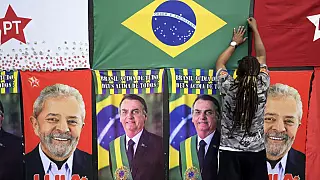 Brazilians flocked to the polls to elect their president in a runoff election this past Sunday. This election had massive implications for the future of the Amazon rainforest, due to the candidate's position on that issue. Incumbent president Jair Bolsonaro ran for re-election, and established himself as a right-wing culture warrior, prioritizing evangelical beliefs and protecting family values. Bolsonaro has been compared to Trump by western journalists, and was described as the "Tropical Trump". This distinction comes from Bolsonaro's opposition to globalism, multiculturalism, and his aforementioned culturally right-wing beliefs. His four years in office have been wrought with scandal and political instability.
He drew a challenger in former president Luiz Inácio Lula da Silva, a prominent leftist who started his career as a union leader during Brazil's dictatorship in the 1980's. Results poured in on Sunday afternoon, and by the evening, Brazil's superior court certified Lula as the president-elect. His win was expected by pollsters, although more narrowly than they predicted. So what is the importance of this election?
For the past several years, the Amazon Rainforest has been endangered by wildfires and out-of-control illegal logging. Climate scientists have established the Amazon Rainforest as Earth's most important source of oxygen, since there are billions and billions of trees there. Jair Bolsonaro was elected president of Brazil in 2018, and since then has adopted a laissez-faire approach to protecting the Amazon. While president, Lula created a government commission to fine illegal loggers, and Bolsonaro hardly let this commission operate. Lula vowed to protect the Amazon from these dangers.
The Amazon rainforest wasn't the only major campaign issue. In the run-up to this election, Bolsonaro claimed numerous times that Brazil's entirely digital voting system was susceptible to fraud. On some occasions, Bolsonaro flirted with the notion that only a rigged election would bounce him out of power. Bolsonaro's party, the Liberal Party, claimed that there were 'several flaws' and that "5% of the all the requirements for a proper election certification" These claims are eerily similar to former President Trump, who has claimed numerous times that his loss to Joe Biden was illegitimate, due to voting machines allegedly rigging results. As of the writing of this article, Bolsonaro himself hasn't issued any public comment on the election results.
Numerous world leaders, including President Biden, have congratulated Lula on his victory. His victory marks a major political comeback, since he was imprisoned just four years ago on corruption charges, only to be acquitted after local journalists proved his conviction was met with bias on the part of the judge. The judge who convicted Lula later became a part of Bolsonaro's administration. Lula will be inaugurated on January 1st, 2023.