Missile strikes in Przewodów, Poland, killing two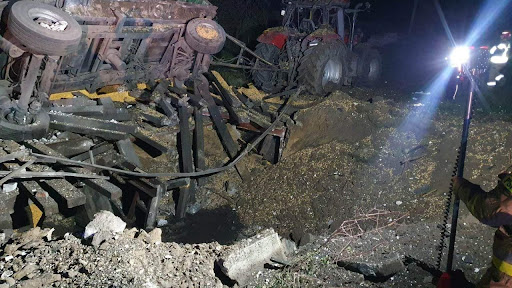 An S-300 Missile struck in Przewodów, Poland, killing two people on November 15th. Under further investigation, NATO and the Polish government have concluded the tragedy was an accident caused by a misfire in Ukrainian anti-missile defense.
As Russian frontline efforts begin to waiver, Russia has turned its attention to autonomous missile attacks. The primary aim of these attacks are to cause widespread blackouts in Ukraine. Around the time of the incident, Russia launched its largest barrage of the month, estimated to be about 100 missiles.
"Ukraine's defense was launching their missiles in various directions, and it is highly probable that one of these missiles, unfortunately, fell on Polish territory," Polish President Andrzej Duda said. "There is nothing, absolutely nothing, to suggest that it was an intentional attack on Poland."
A US-led 30-nation military meeting was held in Brussels, Belgium where the majority of the countries agreed with the Polish conclusion. Ukrainian military officials said there was an attempt to intercept the Russian barrage near Przewodów close to the time of the incident; though they did not explicitly state whether or not it was their missile that was involved.
US President Joe Biden led the G20 summit in Bali, Indonesia on the 15th and 16th of November. At the summit, Ukrainian President Volodymyr Zelenskyy objected to NATO's conclusion of who was at fault. He urged that their allies further investigate the incident to potentially prove otherwise. "I do not doubt that it was not our missile," Zelenskyy said to reporters in Kyiv, Ukraine.
Jens Stoltenberg, the NATO secretary general, echoed Polish deductions. "Our preliminary analysis suggests that the incident was likely caused by the Ukrainian air defense missile fired to defend Ukrainian territory against Russian cruise missile attacks," he stated after the summit. "But let me be clear, this is not Ukraine's fault. Russia bears ultimate responsibility as it continues its illegal war against Ukraine."
The White House also released a statement affirming Poland's investigation: "That said, whatever the conclusions may be, it is clear that the part ultimately responsible for this tragic incident is Russia, which launched a barrage of missiles on Ukraine specifically intended to target civilian infrastructure. Ukraine had — and has — every right to defend itself."
Further investigations must be made, according to Stoltenberg. He emphasized that with no current evidence of Russian involvement, NATO's collective security does not need to get involved. As of now, Ukraine's allies can continue to indirectly support them without getting dragged into the deadly conflict.