Istanbul Blast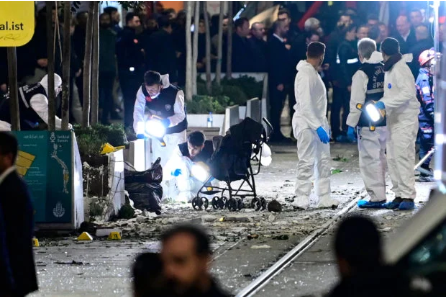 Istanbul, Turkey was shaken by an explosion that killed six and injured 81 on November 13. The explosion occurred on Istiklal street, a popular tourist destination known for its liveliness. The attack has been deemed a terrorist act and an investigation will be looking into the incident. The suspect, a Syrian woman believed to have ties to Kurdish separatists, is in police custody.
The woman is shown in security camera footage sitting on a bench for about 40 minutes, then leaving a bag two minutes before the blast. "It went very quickly from a very peaceful Sunday with a very crowded street full of tourists to what looked like the aftermath of a war zone," said Tariq Keblaoui, a Lebanese-based journalist who witnessed the explosion.
The attack is suspected to have been carried out by Kurdistan's Workers Party (PKK) which has been demanding its own state within Turkey. Kurdistan is a region that spans from Iran to Turkey and the Kurds carry their own language and culture. They have been demanding their own state within Turkey for decades due to the discrimination towards them by the Turkish government. The Turkish government has tried to deny the existence of the Kurdish ethnicity and massacred thousands of Kurds throughout the 1900's. Laws were put in place banning the Kurdish language, culture, and names to try and get the Kurds to conform to Turkish society.
"It is PKK/PYD terrorist organization according to our preliminary findings," said Suleyman Soylu, Turkey's interior minister. There is no solid evidence that they are responsible, but this is not the first time the PKK has carried out attacks; there have been multiple bombings and an attempted coup in 2016. Although the group has denied any involvement in the attack. The group has Marxist-Leninist ideas and has been fighting Turkey since 1984. Over 40,000 people have died in the conflict, which peaked in the mid-1990s. Thousands of cities and villages were destroyed in the mainly Kurdish-populated southeast of Turkey due to the conflict. Which caused Kurds to flee to other parts of the country, Syria, and Iraq. The PKK has a large number of members in Northern Syria and Iraq, whose leaders have designated safe grounds for the group.
Twenty-one other people were also taken into police custody. "The face of terrorism is bitter, but we will continue this struggle to the end, whatever the cost is," said Suleyman Soylu. The Turkish government has not released further information on the suspects in custody and the reason for their arrest.
The international community has been sending its condolences to Turkey after this deadly explosion. "To the Turks: we share your pain. We stand with you in the fight against terrorism," said French President Macron, expressing his condolences. NATO Secretary General Jens Stoltenberg sent his deepest condolences to fellow NATO member Turkey.
Yusuf Meydan, a member of Turkey's Ministry of Family and Social Services, and his daughter were among those killed in the explosion, according to the head of the ministry. Further details will emerge as the explosion is investigated, and Soylu has stated that Turkey will take revenge and "give them a response…so they experience more and more pain."