NATO Allies are sending tanks to Ukraine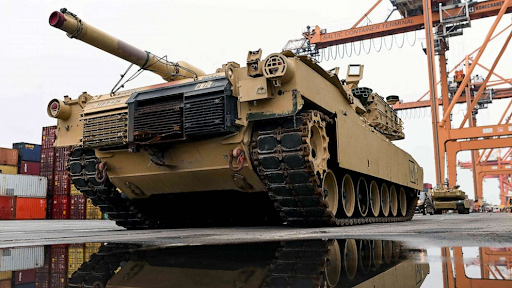 Ukrainian President Vlodomyr Zelynskyy has been requesting NATO tanks for months ever since the war began and finally, his prayers have been answered. President Biden announced the United States is sending 31 M1 Abrams tanks to Ukraine. Germany has also committed to sending 14 Leopard 2 tanks. While these tanks will be a major asset long term, it will take many months for any actual impact to occur.
Over 30 countries have sent weapons and supplies to support Ukraine since the war started in February of 2022. Ever since, President Zelynskyy has urged for NATO to send their more advanced tanks/weapons to level the playing field.
"It is tanks for our state. It is missile defense. It is anti-ship weapons. That is what our partners (NATO) have, that is what is just gathering dust there," President Zelynskyy stated in May of last year.
Ukraine has been using outdated soviet technology to fight the Russian army. At first, Warsaw Pact weaponry was all allies would supply to Ukraine. They are using T-72 tanks, which have weak guns and armor by modern standards. Poland, Czechoslovakia and other Eastern European countries supplied them with over 200 more of these tanks after their supplies depleted. While Russian weaponry is also soviet-era, they have stockpiled much more and have more resources to utilize.
When the war started, Ukraine hadn't had the infrastructure to receive NATO standard weapons to fight, but now Kyiv believes they're in a much better position for that advanced technology.
"The Abrams tanks are the most capable tanks in the world," President Biden said in a statement on January 25th.
These tanks are heavier than Russian tanks, and seat a 4-person crew. The exterior is clad in chobham armor, a powerful material which protects it from enemy fire direct hits. It has a gas turbine engine that requires a different refueling process than Ukrainian soldiers are used to. It was used by the US in both the Iraq and Afghanistan wars.
"[The tanks] are also extremely complex to operate and maintain," President Biden added, "so we're also giving Ukraine the parts and equipment necessary to effectively sustain these tanks on the battlefield."
Along with the tanks, the US is also sending several other military equipment. They will be sending Stryker armored vehicles (which were also used in Iraq and Afghanistan), and the Patriot Missile System. The system is difficult to operate and expensive, estimated to be worth $3 million.
Germany is sending Leopard 2 tanks. They also seat a 4-person crew, are heavier than their Russian equivalents, and have a multiple layered composite armor. Its main gun requires 120 mm of NATO standard ammunition. The German Defense Minister stated the Leopard 2 tanks could roll onto the battlefield in three months. He stated that the training would come first before they exported the tanks to Ukraine for use.
Ukraine's NATO allies will have to teach Ukranians how to use their newly acquired tanks ranging from the Abrams to Leopard 2s and several more, which means it could be months before those tanks help push back the Russian front.