Man fatally shot by Fairfax police in Tysons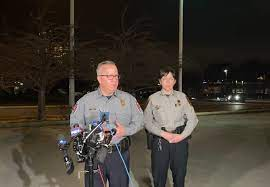 Fairfax County police shot a man after being suspected of shoplifting from the Tysons Corner Center.
It is currently unknown whether or not the man was armed, but the police chief, Kevin Davis, reported that he was "well-known to law enforcement."
A uniformed police officer and an officer not in uniform chased the man for approximately a quarter of a mile in a heavily wooded area, issuing commands that were ignored. The reason that prompted the firearms to be discharged is unknown so far, but the uniformed officer was wearing a body camera, which will aid in the investigation.
Police reported that the man was struck in the upper body, but Davis noted that the number of strikes was also unknown. The man was taken to the hospital with life threatening injuries and was later pronounced dead. The Fairfax County Police Department stated that no officers were injured.
Davis also stated "We know how much scrutiny these officer-involved shootings and the scrutiny that follows these officer-involved shootings, not just here, but around the country. And it's something we take very, very seriously."
Police shut down Fashion Boulevard between Leesburg Pike and Tysons Place One, and asked the public to avoid that area until further notice.
Police postponed the search until the next morning, allowing them to collect evidence with the help of daylight.
Davis reported that the department will "search for any evidence that the suspect may have discarded during the full chase."
This information would help to determine if the suspect was armed at the time he was shot.
This incident occurs only 6 months after a shooting at the same mall, which led shoppers to frantically flee, as well as an incident last December where a 16 year old was arrested under gun related charges.
Despite this, Davis reported that the mall is still an "absolute safe destination for shoppers," citing the 16 full time police officers working.