After One Year, Ukraine Shows Tremendous Resilience Against Russian Invasion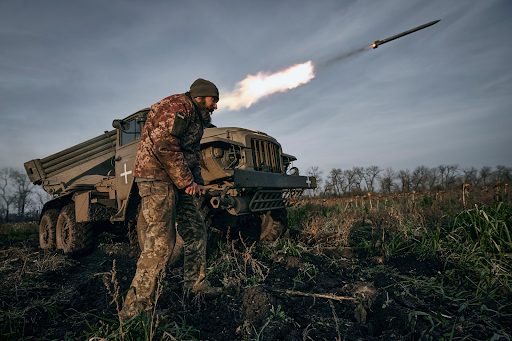 The first active land war in Europe since WW2 began to unfold one year ago when Russian President Vladimir Putin declared a "special military operation" to invade the eastern half of Ukraine, an area that for years had prepared for Russian aggression. Russia didn't make it a secret that they were preparing to invade, however. For weeks, Russia's military dramatically increased its presence near the Ukrainian border. Satellite images began showing dramatic movement of tanks, artillery, and troops. What happened in the following months would change Ukraine, and international relations, drastically.
When Putin announced his "special military operation" to invade Eastern Ukraine, war quickly broke out. Eastern Ukrainian cities, many of which are dominated by pro-Russian separatists, descended into violence and bloodshed. The Russian military quickly rolled across the border, which was easy given the flat terrain. The Ukrainian capital, Kyiv, fell under attack from air and land. Air raid sirens replaced the usual sounds of city hustle and bustle. Missiles lit up the night sky, and explosions ringed through the night. In the following months, however, Ukraine showed tremendous resistance. Ukraine's president, Volodomyr Zelensky, took charge of the defensive response and rallied his people around him. He quickly became an international hero, for his decisive leadership in countering the threat from Russia. NATO countries, including the US, quickly sent weapons and funding to bolster Ukraine's defense.
In hindsight, a year later, it has become clear that Putin's decision to invade didn't take into account the tremendous resistance from the Ukrainian people and from Ukraine's western allies. The invasion caused a massive refugee crisis that is still enveloping much of Europe. Reports estimated that close to 8 million Ukrainians were displaced within the country, and another 8 million fled the country entirely. Cities in far western Ukraine quickly became hubs of travel for refugees, such as Lviv.
Over the years, Russia has shown impunity when invading foreign neighbors. In 2008, Russia invaded the Republic of Georgia, after political instability came to a head between the two countries. In 2014, Russia invaded the Crimean peninsula in Ukraine. The rise of Vladimir Putin in the last two decades is partly to blame for the increasingly hawkish foreign policy Russia has implemented. Since the fall of the Soviet Union, Russia has become increasingly concerned with the influence of NATO in Europe, the military alliance built to protect the West from Russian aggression. Numerous former soviet republics joined NATO in the last two decades, which prompted high concern from the Kremlin. All of these factors contributed to Putin's decisions to heavily militarize the borders along NATO or NATO-friendly countries, and eventually to begin invading neighboring countries he fears could fall under the influence of NATO. Putin's fear is that if he allows more and more European countries to join NATO, Russia's dominance as a global power will be greatly diminished. The United States seeks to diminish Russian influence to promote democracy and freedom around the world.