TikTok CEO faces congress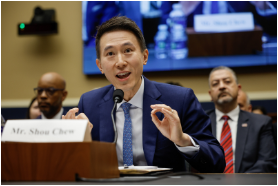 There have been calls in the government to ban the Chinese-run app TikTok over national security and mental health concerns. TikTok's CEO Shou Chew stood before congress for over five hours on Thursday. He was grilled by lawmakers over whether or not the app collected private information and if the Chinese government had access to this data. This proposed ban has bipartisan support and is one of the few issues that both sides support immediate action.
Shou Chew became the CEO of TikTok in early 2021 and this has been the first time he has been put into the spotlight. He supplied very limited and indirect responses to the questions asked which frustrated the room. Rep. Tony Cárdenas compared Chew to Mark Zuckerburg when he was questioned in 2018,"-'good dancer with words.' And you are doing the same today. A lot of your answers are a bit nebulous; they're not yes or no."
The concern is that TikTok can be forced to transfer data to the Chinese government to adhere to security activities. "To the American people watching today, hear this: TikTok is a weapon by the Chinese Communist Party to spy on you, manipulate what you see, and exploit for future generations," said Rep. McMorris Rodgers.
Another concern from lawmakers in Washington is that TikTok has had a negative impact on America's youth. There are 150 million TikTok users in America and there has been a rise in mental health issues that can be traced back to social media platforms. "Your technology is literally leading to death," Rep. Gus Bilirakis of Florida said to Chew.
There were no significant developments with this hearing, but it did solidify many lawmakers' stances that the platform should be banned. Other federal officials called for the platform to be banned such as US Secretary of State Antony Blinken. "Broadly speaking, some transactions can present data security risks — including providing a foreign person or government with access to troves of Americans' sensitive personal data as well as access to intellectual property, source code, or other potentially sensitive information," a Department spokesperson said.
It appears that TikTok has a dim future in the U.S. and the plug may be pulled on the platform sooner rather than later. The question now remains of how the ban will be implemented across the country.