Biden's student loan forgiveness plan reviewed by Supreme Court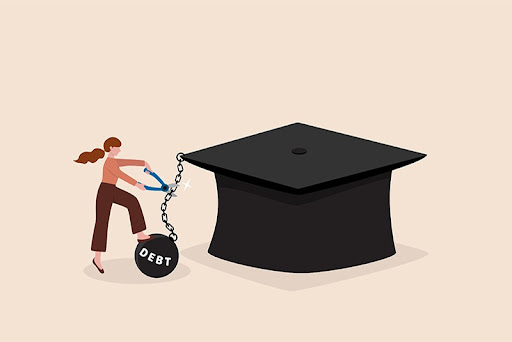 The United States Supreme Court has challenged the executive branch's authority to bypass congress in national financial aid. Nebraska, five other Republican-led states, conservative interest groups, and two individuals had sued the Biden student-loan forgiveness plan, and Republican-nominated judges have appealed it all the way up to the Supreme Court. A decision is expected to be made in June.
In response to the pandemic, the Secretary of Education paused federal loan payments because of the HEROES Act (2003). While the deadline keeps getting extended, it's estimated to end June 30th 2023. Biden proposed the loan forgiveness plan to counter rising student debt in August 2022. It could help over 400 million Americans struggling to pay off debt from higher education.
The basic conditions are as follows: You are only eligible for forgiveness if you took out a federal loan before June 30th, 2022. This extends to graduated and current college students, but college freshmen will not be eligible. Furthermore, no students in high school right now will be eligible for forgiveness.
A household that makes less than $125,000 of income each year may be eligible to be forgiven up to $10,000 in federal loan debt. If a couple makes less than $250,000, or has applied for a Pell Grant, they can be forgiven up to $20,000. If deemed lawful, student loan forgiveness is estimated to cost $400 billion by the Committee for a Reasonable Federal Budget, a nonprofit organization.
Twenty-six million people have already applied and 16 million have already received financial forgiveness. The application portal has been closed due to legal allegations against the program.
Many Americans believe that the President doesn't have the authority to absolve $400 billion of debt without Congressional Consent. An additional accusation is that the forgiveness plan would only worsen the national debt crisis, and that it doesn't address the root cause of student debt: that the cost of higher education has tripled in the last 15 years. The Job Creators Network Foundation is a conservative advocacy group that also sued the plan. They are concerned with the "fairness" of taxpayers paying for loan forgiveness even if they never went to tertiary education.
"This lawsuit is not about race; it's about the rule of law," said Elaine Parker, the organization's president. "The Biden administration is using this unlawful student loan bailout for political gain."
However, many Americans are in favor and some think the Biden administration should go as far as to cancel all debt. The NAACP is in support, stating black students are more likely to take out loans than white students and that this is "a step in the right direction." Other liberal lobbyists and interest groups are pushing for Biden to forgive all student debt. Many college students themselves are in support of the plan. Hundreds of students assembled outside the Supreme Court during its session to urge the judiciary to back the forgiveness plan.
At the rally, Wisdom Cole, the NAACP's national director of Youth and College stated, "Saying that this [plan] is not fair is disregarding the years of injustice that have happened to the Black community and to people of color, and how education — in theory — was supposed to be the great equalizer, supposed to be able to give access to opportunities, but it hasn't."
The Supreme Court has heard all the opinions it will take. While the court will reach a verdict in the coming months, American disagreement over the student loan debt crisis cannot be solved so easily.