Washington in bloom: A guide to viewing the 2023 DC cherry blossoms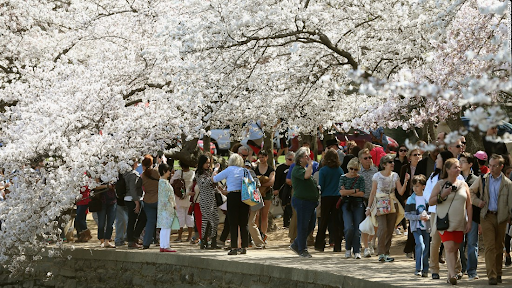 When springtime arrives, the flowering pink petals along the National Mall become the heart and pride of the Washington DC community. From March to April, the city comes alive to celebrate the 3,700 local cherry trees with festivals, cultural showcases, and special events for all interests. Here are the bloom predictions, events, and insider tips you need to make your DC cherry blossom trip an unforgettable experience!
Because of their spectacular shape and color, the National Mall Yoshino cherry trees are the jewel of plant life in Washington. In order to see these flowers in their full glory, you'll have to plan your traveling dates carefully to catch the peak bloom, a period of maximum blossoms that only lasts for a few days. This year's peak bloom is predicted to be early due to the unusually warm winter across the East coast, ranging from March 22nd to the 25th.
To monitor the flowers in real time, use the #BloomCam feature on the National Cherry Blossom Festival website to watch 24/7 footage of the Tidal Basin trees. Created by Earthcam and the National Park Service, this tool takes the guesswork out of your trip by providing the latest updates on the local bloom levels.
The abundance of cherry blossoms lining the scenic reservoir waters makes the Tidal Basin the most popular spot for cherry blossom viewing. However, you can find many other cherry tree patches around the DMV with just a fraction of the crowds. If you want an unoccupied photoshoot background or a quiet picnic setting, consider checking out these areas:
United States National Arboretum

Washington Monument

Dumbarton Oaks (Georgetown)

Hains Point (East Potomac Park)

Kenworth neighborhood (Bethesda, MD)
Dates and locations are relatively easy to map out, but the most headaches from vacation planning usually arise from transportation and other visitors. The cherry blossoms can attract more than 20 million visitors to the D.C. area, so be prepared for lots of traffic and swarms of tourists. Traveling by car can be a nightmare at this time of year; even getting up before dawn doesn't promise you a parking spot along the Basin. These lots are prime real estate that'll be filled long before your arrival, so expect to park farther away from the cherry trees and sacrifice some time for walking. Apps like ParkHero are especially helpful for finding empty spots when every street in Washington seems congested. Even better, forget about cars as a whole and opt for public transit instead! Even though the metro will be extremely busy during the festival season, saving the stress from the parking situation will make your cherry blossom retreat as carefree as possible.
While the cherry blossoms will certainly be a highlight of your trip, many people don't know that the flowers are only one part of the DC cherry blossom experience. One of the best cultural celebrations in the country, the district's National Cherry Blossom Festival is a two-month long celebration that sponsors countless parades, markets, and educational experiences highlighting Japanese culture. From Taiko drumming concerts to massive kite flying competitions, this signature event of the DC community truly offers something to everyone.
While the activities seem endless, here are some highlights of the festival. All events including the ones below are listed on the National Cherry Blossom Festival website, some are even virtual. Most of these events are free, but those that require tickets can be purchased off the website.
Outdoor festivals and events
Blossom Kite Festival: March 25th at Washington Monument Grounds and other parks in DC, Maryland, and Virginia
Petalpalooza: April 8th at the Capitol Riverfront at the Yards Navy Yard Metro (Department of Transportation Exit)
The National Cherry Blossom Festival Parade: April 15th at Constitution Avenue NW between 7th and 17th streets. Tickets required.
Sakura Matsuri (Japanese street festival): April 15-16 at Pennsylvania Avenue NW between 3rd and 7th streets, DC. Tickets required.
Credit Union Cherry Blossom 5k & 10 Mile: April 1-2. 5K at Freedom Plaza, 14th & Pennsylvania Ave, NW, DC. 10 Mile art Washington Monument Grounds, 15th and Constitution Ave, NW, DC.
Performances
Tidal Basin Welcome Area & Anna Stage: March 18 – April 2, West Basin Drive SW, DC
Sakura Taiko Fest at Sylvan Theater: March 25, Sylvan Theatre, DC
6821 Quintet Concert:
April 1 at Millennium Stage, the John F. Kennedy Center for the Performing Arts, DC
Tamagawa University Dance and Taiko Group North American Tour:
April 14th
at Millennium Stage, the John F. Kennedy Center for the Performing Arts, DC
Museums and indoor venues
PIXELBLOOM: TIMELESS BUTTERFLIES: March 11 to June 11, ARTECHHOUSE DC.
Japanese culture day: April 1st at the Young Readers Center, Thomas Jefferson Building, Library of Congress
Cherry Blossom Festival: April 1-2 at the Smithsonian National Museum of Asian Art, DC.
Blossoming Flowers in Japanese art and Poetry: March 17- May 5, 2023 at the Japan Information & Culture Center, DC
The annual blooms of the cherry trees serve as a perfect opportunity to unwind and enjoy the beauty of nature. Admiring the breathtaking flowers, spending time with loved ones, and enjoying the museums and celebrations in the DC area is a sure method to kick off this spring on the right foot.